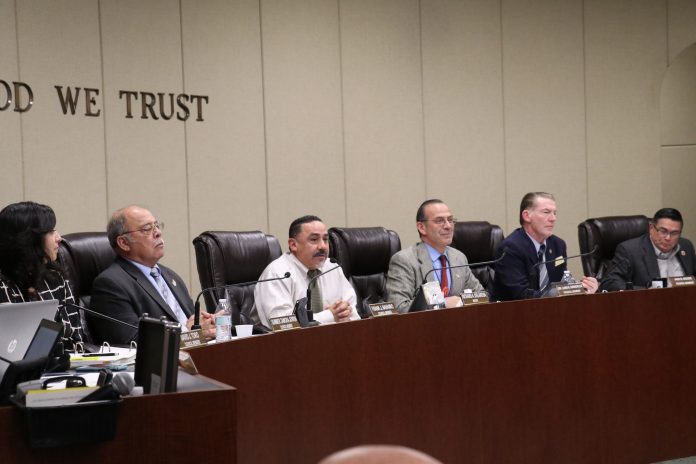 Residents gathered for a neighborhood meeting on Colton's west end last Thursday to discuss their concerns with mail theft, vandalism, street racing, and homelessness.
The meeting was organized by Mayor Pro Tem David Toro (First District), with his colleagues Mayor Richard De La Rosa and Councilman Isaac Suchil also present to address questions.

According to several residents, there has been a rise in mailbox theft in the past several months. Items ranging from important mail to packages have been stolen from the area.
In addition, residents addressed concerns with vehicles that violate speeding laws along the Pepper Avenue corridor and 'drifters', young people who choose to illegally engage in the motorsport behind the Food 4 Less.
Colton Police officers Sergeant Steven Davis and Corporal Tony Jaeger suggested for residents to create a neighborhood watch group to try to curb theft and other crimes from the neighborhood.
"We encourage you to be friendly with your neighbors and exchange names," said Jaeger. "It will help us do our job."
Resident Freddy Vanguardia, who lives on Campaña Court, backed up the officers' suggestions.
"The way we can prevent things like this from happening is by knowing one another," said Vanguardia. "Many of us have invested our lives into this community."
One way Vanguardia believes neighbors could adequately combat crime is by utilizing security apps, such as next door neighbor and devices like Ring, to keep an eye on the hour-to-hour or minute-to-minute occurings of the community.
"It's all about communication, man," he said. "We have to come together."
Another issue brought up was homelessness, which is a growing problem, according to De La Rosa.
The Mayor said the is working to identify areas that could serve as homeless shelters or transitional homes.
"It's better to know where they are or monitor them, as opposed to having them become nuisance," De La Rosa said. "We need your input…if we don't attack it now, the city's work of developing west end may be all for nothing."