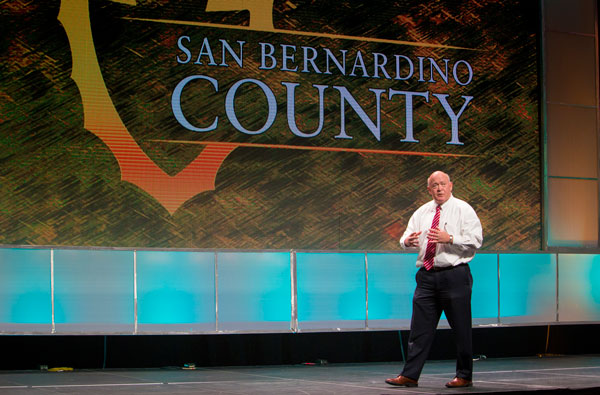 San Bernardino County has emerged as the dominant economy in Southern California. The region is adding jobs faster than the coastal counties and is the only region in CA that is adding millennials.
As businesses and residents continue to be priced out of Southern California's coastal communities, San Bernardino County is experiencing growth across a number of economic indicators. That fact and more was part of the information delivered to more than 1,000 business, community and government leaders at the 2018 San Bernardino County Regional Business Summit and State of the County.
"If you are between the ages of 15 and 50, the opportunities in this County are incredible," Robert Lovingood, chairman of the San Bernardino County Board of Supervisors. "We continue to be the only region in the state that is attracting millennials, and that is a factor that is allowing us to grow and add jobs. Businesses can attract talent here."
Along with an opening message by Lovingood, the event shared important data about the region's growth supported by business executive commentary, including the fact that San Bernardino County is leading job growth in Southern California ahead of Orange and Los Angeles counties.
"Milken Institute, in its 2017 rankings, showed the Riverside-San Bernardino Metro surged forward. Out of 200 national metros it is now top 25. This is not just driven by housing and construction, it is being driven by a greater variety of jobs," shared Kevin Klowden, executive director of the Milken Institute's Center for Regional Economics and California Center.
One of the County's local success stories, Kids that Code, is an example of that growth. Pat Person, executive director, Kids That Code, started the company with colleagues at the Inland Empire Center for Entrepreneurship (IECE) at CSU, San Bernardino, a top 35 global program for fostering entrepreneurship and innovation. "Students that go through our computer training programs will be instrumental as building blocks for a tech community in our County," said Person.
Career pathways are also in place at Apple Valley High School. The school's award-winning Medical and Health Science Technology (MAHST) Academy is an example of how the County is building a sustainable workforce.  The MAHST program was recognized as a 2017 California Partnership Academies' Distinguished Academy.  MASHT is a four-year program that provides high school students with training and classes to achieve industry certifications and internships, further preparing them for college and a career.
Additional County attributes include the growth of Ontario International Airport. "LAX needs a stronger Ontario Airport because LAX is running out of capacity. Ontario could be positioned as the key long-haul airport for Southern California," added Klowden. The airport, now under local County control, has been growing, adding new service with Frontier Airlines and China Airlines.
The County's entrepreneurial spirit was also cited. Parliament Chocolate is a local entrepreneurial success story. "Operating here is amazing. It has given us the ability to expand and add stores," said Ryan Berk, founder, Parliament Chocolate. He added that the young start-up is already shipping product across the U.S. and to international markets.
New ideas are also being incubated in the County on the campus of world-class health sciences center Loma Linda University Health at N3eight.  This new center is working with ten start-ups seeking to launch medical innovations ranging from equipment used in surgery to wellness diagnostic tools to treating cancer. "This is a great environment for biotech companies to start, grow and develop deep roots," shared Michael R. Samardzija, PhD, JD, Associate Vice President of Research Development, Loma Linda University Health.
Klowden closed the presentation, noting, " The main advantage for San Bernardino County is that it has the most ability to attract young people, to find low cost and lower regulatory locations, diversity, access to international markets, and the ability to attract investment in."
To watch the entire State of the County presentation, go here.
About San Bernardino County: Located at the heart of Southern California, an economy of 23 million people, San Bernardino County is the largest county in the United States. Its vast borders stretch from the greater Los Angeles area to the Nevada border and the Colorado River encompassing a total area of 20,160 square miles. Comprised of 24 cities, San Bernardino County encompasses more than two million residents with a workforce of nearly 900,000. Its assets include an innovation corridor of close to two dozen colleges and universities supporting a strong, diverse workforce along with an unparalleled collection of roadways, runways and railways that lead to regional, national and international business centers. Visit www.SBCountyAdvantage.com.