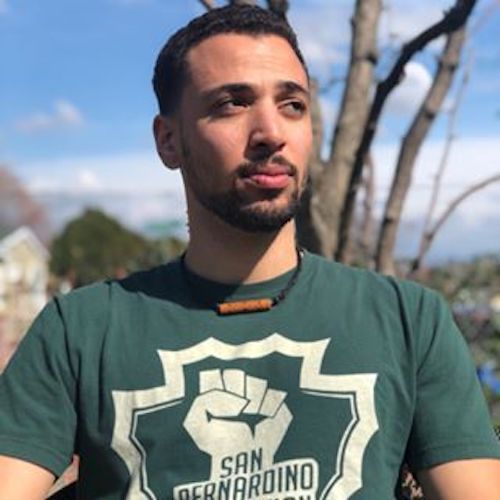 Op-Ed by Ben Reynoso, Community Organizer
My family moved to San Bernardino in 2003 so I never experienced what life was like here before Norton Air Force Base closed in 1994. But I've seen and experienced the deep wounds that were opened that year in my city every day of my life since.

Today the people of San Bernardino are being told a story of "rebirth" happening on the former Norton site. Elected leaders and airport officials want us to believe that after 25 years San Bernardino is back!
In 2002 the Inland Valley Development Agency (IVDA) and San Bernardino International Airport Authority (SBIAA) entered into an exclusive development agreement with Hillwood (a huge development company run by Ross Perot, Jr.) to create a public/private partnership called Alliance California. According to the IVDA, Hillwood / Alliance-California has created more jobs (10,780) than were lost when Norton closed (10,000).
So why aren't San Bernardino residents feeling the rebirth?
Because the mostly warehousing jobs that Hillwood has brought to San Bernardino typically don't pay enough for workers to support a family. People who still worry how they're going to pay their out-of-town landlord every month, and people who can't afford decent healthcare or consistent healthy meals for their families don't patronize local businesses and stimulate the local economy. Hillwood has brought us jobs but it has not replaced the economic engine that Norton was.
This problem is not unique to San Bernardino. A 2018 UC Riverside report concluded that while the Inland Empire has outpaced California and the rest of the country in job growth this decade, workers in our region have "higher rates of poverty and lower earnings, lower percentages with full-time, full-year employment, and lower percentages with employer-provided health insurance."
Hillwood is now planning to build a massive warehouse called the Eastgate Air Cargo Logistics Center on the north side of the runway, effectively rolling out the red carpet for a company like Amazon, which is running out of room to grow at the Ontario and Riverside airports.
But our airport is a shared resource that we shouldn't let go to waste. We can and must put an end to the low road economic development of the past two decades. We can and must demand good jobs and development that will help us build healthy, thriving communities in our city!
The first step to making our demands a reality begins with the San Bernardino Airport Logistics Center Town Hall on Wednesday, April 17th, 6:30 PM, at Our Lady of Hope Church in San Bernardino, 6885 Del Rosa Ave. It's time for our communities to be at the heart of the rebirth of our region. Join our fight for good jobs and healthy communities at SBAirportCommunities.org.