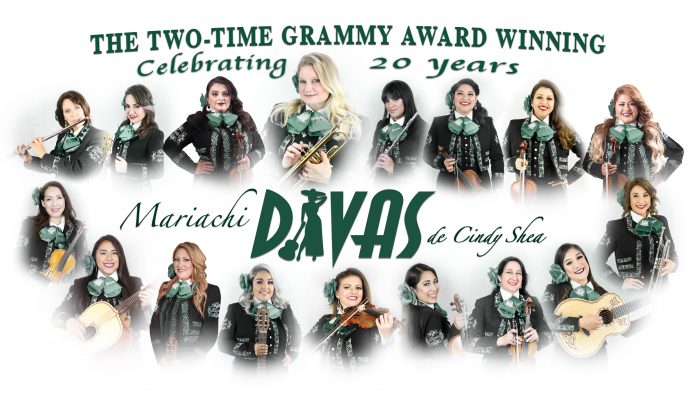 Sinfonia Mexicana Youth Academy invites you to join us in welcoming Mariachi Divas de Cindy Shea for a festive mariachi concert. This is the first time ever that the Divas, a two-time Grammy Award winner, will perform a concert in Colton. The concert fundraiser for the Academy's education program is on Sunday, April 28, 2019 at 3 PM at Whitmer Auditorium, Colton High School, at 777 W. Valley Blvd., Colton, CA.
The Divas, an all-female mariachi ensemble founded and directed by trumpet player Cindy Shea, is imbued with the unique musical flavor of Los Angeles. Their discography includes 14 albums that include traditional mariachi music, original compositions and unique musical interpretations. As world renowned artists and performers, they have expanded the scope of mariachi music and will present an engaging and entertaining performance

Sinfonia will also celebrate the 10th year anniversary of the Youth Academy as well as the success of the Academy Alumni, who are now in college, have graduated from college, or serving in the armed forces. The Divas, founded in 1999, also celebrate their 20th anniversary of inspiring audiences around the world with their mariachi music. Coming full-circle, Ms. Shea was also one of the founding instructors for the Academy.
It promises to be a truly visual and culturally rich experience for the entire family. Doors open at 2:00 p.m. and we encourage you to arrive early to enjoy traditional foods such as tamales, aquas frescas drinks, and desserts that will be available for purchase before the concert.
"This is a festive event for the entire family to experience and enjoy traditional mariachi music and folklorico dancing. We're especially excited to present this concert in Colton," stated Maria Saenz, Sinfonia President. Also featured will be Folkloricio del Desierto Ballet Folklorico performing their colorful and unique dance interpretations.
Tickets are $30 and $20 and may be purchased in person at the California Theater, at 562 W. 4th St., San Bernardino, Monday through Friday from 12:00 to 4:00 PM, the phone number is (909) 884-3228. For best reserved seat selection, purchase your tickets early in advance. For ticket information or sponsorship opportunities, please call (909) 744-2176. Sinfonia Mexicana is a nonprofit 501(c)(3) organization and all proceeds will support the youth music education program.
Mariachi Youth Academy
Sinfonia Mexicana of San Bernardino founded the Mariachi Youth Academy in February 2009 to provide a music education for area youth who did not have access to an arts education and its benefits. The Academy students learn to read music, understand music theory, play their instrument, and perform mariachi music. Since its founding, the Academy has served over 500 students from across the Inland Empire.