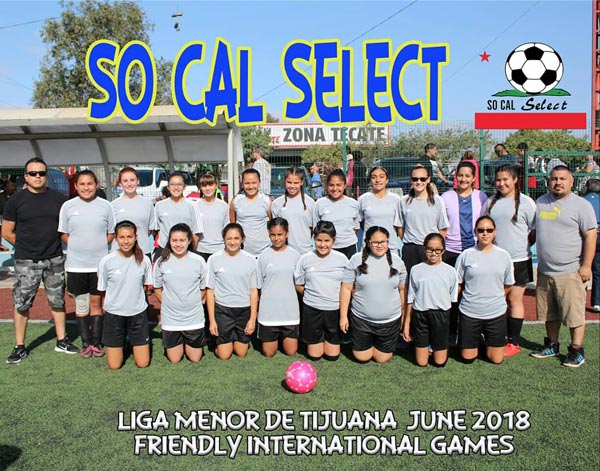 In the final week of the World Cup, there is a team made up of 18 Inland Empire girls aged 12 – 14 who made their own soccer history in the first U.S. and Mexico exhibition match in this category during the Mexico Futbol Federation Tournament on June 30 in Tijuana, Mexico.
Coach Lio Mejia held open tryouts where 50 – 60 girls exhibited their skills, energy and footwork during scrimmages. According to Mejia the players who demonstrated the most dedication and passion made the final cut.

"As a coach I am honored to give these amazing athletes the opportunity to fulfill their dreams and enhance their love for the game," said Mejia.
The team, So Cal Select, defeated the top two teams in Mexico. During the first game the team scored in the first ten minutes, defeating the Mexican State Champion runner-up Colinia Obrera Club 3-0. The team took on 4-time Mexican State Champions Club Libertad and started with a 1-0 lead. Club Libertad tied at the last minute and the girls went to a penalty shootout. So Cal Select won 4-2.
So Cal Select spokesperson Roxanne Garcia whose daughter participated in this rare opportunity revealed, "It was great to hear the other team's coach tell his players 'they're coming from another country and beating us in our own game.'"
On the other hand, according to Garcia, Mejia rarely gave directions except for the occasional "Maestro, cambio," to signal the ref he was making a player change.
"The girls knew their positions so well that Lio didn't have to tell them what to do, when it was time for the penalty shootout the girls knew exactly which line to get into, they knew which groups they needed to be in," said Garcia. "There was no arguing or bickering among the team, they were so well orchestrated."
Mejia expressed his pride on the girls' performance. "It was great experience for us as a team. We got invited back on August 18 to be part of a tournament that will be scouted by the Woman's National Mexican Team Coach. That will give our girls the chance to get invited in November to tryout for the National Mexican U15 team. I can't wait to see my girls shine," Mejia responded in an email.