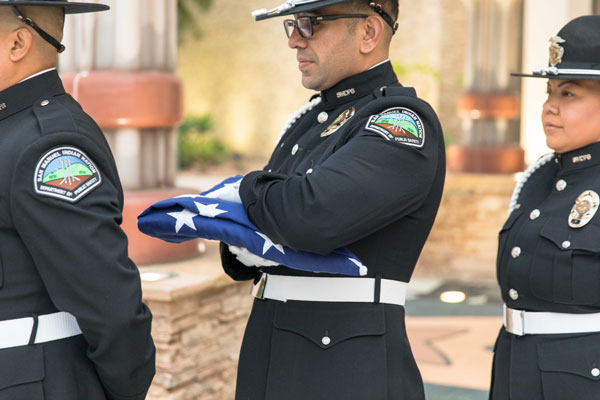 San Manuel Band of Mission Indians held its 10thannual Sunrise Flag Raising Ceremony on Thursday, May 24.
The American flag was raised bright and early, just as the sun was coming up to honor the men and women who have served the country.
Service men and woman marched to a flagpole on the San Manuel Band of Mission Indians reservation and raised the flag, while San Manuel Bird Singers played traditional native rattles.
"In observance of Armed Forces Day, we honor those who join us today as well as those who serve this country around the world," said Ralph Boelter, Chief Security & Risk Officer. "And, in observance of Memorial Day, we honor and remember the brave men and women we have lost."
According to A U.S. Department of Veterans Affairs report, which highlighted the unique contributions of Native people stated that, 'of all population groups in the United States, American Indians and Alaska Natives continue to serve in the military at the highest rate of all races, as they have done throughout our Nation's history.'
"For more than 200 years, American Indians have participated in U.S. military actions. Today, more than 22,000 Native Americans serve in the U.S. military," continued Boelter.
According to the Library of Congress, American Indians have eagerly served a government which did not always keep its word to their ancestors.
"The San Manuel Band of Mission Indians is proud to honor the Veterans of this Community and beyond," Boelter said.
Some of those who were recognized at the Sunrise Flag Raising Ceremony was Kenneth Barajas, Louis Gonzales Jr., Vincent Morongo, Roy Alton Manuel, Richard Manuel, Ignacio Manuel, Mike Duro Sr., Mike Duro Jr., Walter Thomas Manuel, Victor Daniel Williams, Ronald Joseph Cordova, Shirley Ann Marcus, Andrew Marquez, George Murillo Sr. and James Ramos Sr.
"It is my honor to welcome you to our tenth annual Sunrise Flag Raising Ceremonies at San Manuel Band of Mission Indians. San Manuel is grateful to all the men and women who have served this country and continue to serve this great nation in defense of the freedoms that we all enjoy today," said Johnny Hernandez Jr., business committee member.
Hernandez also gave his thanks to the men and woman who helped maintain the tribal community while the service men and women were away, serving the country.
"We are also grateful for the service San Manuel employees, friends and extended family who have served our country with distinction and honor.  Thank you all for your enduring support that has brought us this 10th annual recognition," concluded Boelter.