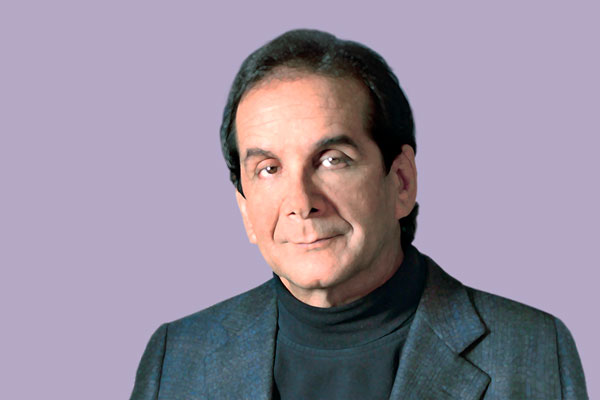 I have great admiration for Charles Krauthammer. He was born on March 13, 1950, which makes him 67 years old. He is an avowed American, of Jewish ethnicity.
Anyone who knows me and my style of writing will immediately be aware of the "why" in my admiration.
He has been married to Robyn since 1974 and they have one son, Daniel. In his book, Things That Matter, his last paragraph is a glowing, almost iconic, acknowledgement of Robyn and Daniel.
"This book is dedicated to my son, Daniel, whose incisive, brilliant mind has kept me intellectually honest and at my keenest since he was about ten years old. And, to my wife, Robyn, who urged me 35 years ago to follow my calling without looking back. With extraordinary intelligence, humor, grace and loving kindness, she has co-authored my life, of which this book is but a reflection."
Krauthammer's academic achievements are amazing. He earned his Bachelor of Arts degree in political science and economics from McGill University in 1970 and followed this by becoming a Commonwealth Scholar at Balliol College, one of the 38 colleges of the University of Oxford.
Next, he earned a Doctorate of Medicine from Harvard Medical School. He followed this with a Psychiatry residency at Massachusetts General Hospital. They came the year of 1972. He was 22 years old.
As a student at Harvard, a friend and he had stopped for a quick swim in a local swimming pool. Diving into the pool, obviously from a high board, he hit the bottom of the pool at an angle; the force was such that the trauma severed his spinal cord – the cervical vertebrae.
He was immediately permanently paralyzed; without even a scar on his head. He was subsequently hospitalized for 14 months. He has been in a wheelchair ever since. It is ironic that he had been studying about the spinal cord at the time of the accident. He had brought a book with him on the anatomy of the spinal cord.
The accident has left him with limited functioning in his arms, legs and torso. But one writer describes him as "living a healthy lifestyle." He is also very much a baseball fan. Statistics, including batting averages are his cup of tea. Chess is also his relaxation.
At age 24 he married a lawyer, Robyn; who is now an artist. They met in 1972 at Oxford. He studied to be a medical doctor, but is now a journalist. He was born in New York City but his family relocated to Montreal, Canada when he was 5.
Krauthammer's father, Schlum, was Ukrainian and his mother, Thea, was Belgian. Marcel, his older brother, died in 2006 of cancer. He was 4 years older than Charles.
In addition to his medical training, Charles is currently a syndicated columnist and political commentator. His Washington Post column appears in 400 newspapers worldwide. He is a regular on Fox News. He is considered a psychiatrist in remission.
In 1978 he worked for the Carter administration. In 1980 he was a speechwriter for Vice President Walter Mondale.
In 1985 his column in the Washington Post won him the Pulitzer Prize in 1987. He and his wife Robyn have a love for Hebraic (Jewish) music and they are co-founders of Pro Music Hebraic.
Interestingly, they live in Chevy Chase, Maryland, but their front yard is in Washington D.C.
My admiration for Krauthammer is dominated by my respect for his perseverance in the midst of hardship AND for the style and subject matter of his writing.
My admiration for him soars when I read his books, particularly his book, Things That Matter. Many of his subjects and mine are similar. For example, his articles about famous people: Winston Churchill, The Indispensable Man; Christopher Columbus, Dead White Male. I wrote about Nelson Mandela, The Unbeatable African; and Sam Snead, The World's Greatest Golfer.
He's written eight books and I've written eighteen. Charles has dedicated one to his wife, Robyn. I've dedicated three to my wife, Stella.
He received a Pulitzer Prize and I have never been even close. He had a brother die of cancer my brother died of a heart attack.
I consider Krauthammer to be a political columnist, with President Trump as his protagonist. He's mine also, but I've only written negatively about him three times.
He is a trained Psychiatrist, while I'm a trained Psychologist. He writes more about bi-polar politicians or Paranoid ones. I write more about depression, strengthening the immune system and the causes of stress.
Both of us write more about the positive nature of life and especially events. While some of his titles may sound negative, he always comes out on the positive side. Like: Are We Alone in the Universe, Don't Be Afraid. The Joy of Losing, In Defense of the F——- word, Don't Touch My Junk.
Two examples of his humor; and he is humorous. He cleverly tells of his First Law. "Everyone is Jewish until proven otherwise." And believe it or not, he uses a word I've never read in any book; he responds to the religious fundamentalism as YUK.
Amen. Selah. So be it.
---
Join our newsletter for weekly wrap-ups of our community coverage, exclusive advertising opportunities and local business specials!