Aguilar announces over $900,000 for Inland Empire housing and jobs programs
2 min read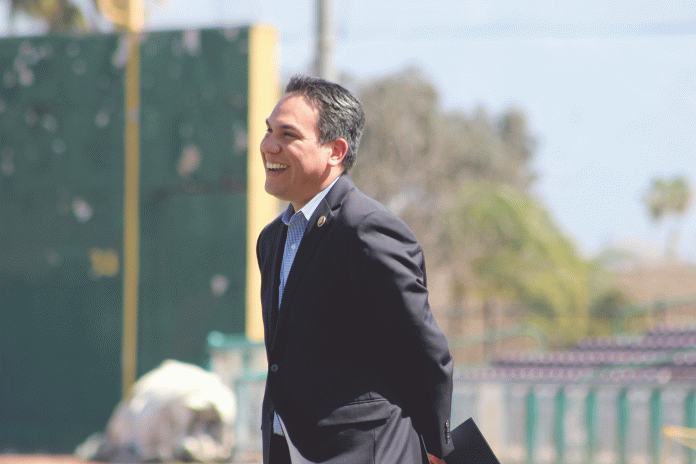 Rep. Pete Aguilar announced three key grants to help Inland Empire families move closer to homeownership on Friday, Feb. 28.
Neighborhood Partnership Housing Services (NPHS), a Rancho Cucamonga-based nonprofit, received a $282,500 grant and Neighborhood Housing Services of the Inland Empire (NHSIE) received a $425,000 grant from Neighborworks America, a congressionally-chartered nonprofit agency. The funding will allow NPHS and NHSIE to continue their work providing education and services to low-to-moderate income families throughout the Inland Empire with a focus on affordable housing programs, neighborhood revitalization projects, services for small businesses and community wealth-building initiatives.
The Housing Authority of the County of San Bernardino (HACSB) also received $216,000 from the department of Housing and Urban Development's (HUD) Family Self-Sufficiency (FSS) program, a five-year program that gives public housing agencies the resources and flexibility to work with other service providers and community members to help participants find employment and increase their earnings with the goal of financial independence.
"We must continue to be innovative in our approach to solving the affordable housing crisis. By empowering organizations like NPHS, NHSIE, and HACSB to provide a wide range of resources to Inland Empire residents, we can help more members of our community achieve economic security, build successful careers and access affordable housing. I was proud to advocate for this funding in Congress, and I look forward to seeing these organizations continue the good work they've done for our region," said Aguilar.
"This funding will support NPHS' affordable housing, neighborhood revitalization, community wealth building, job creation and environmental sustainability programs," stated Clemente Mojica, NPHS CEO. "These interconnected areas of impact create meaningful change for underserved communities throughout our region and provide emerging entrepreneurs the necessary tools to grow and thrive."
"We are extremely grateful for the continued support of Representative Aguilar as we actively work to strengthen the economic stability of working families in the Inland Empire. Over the past 35 years NHSIE has assisted thousands of prospective homebuyers purchase their first homes. We are thankful for Congress and NeighborWorks America's recognition that safe and stabile housing and an investment in homeownership is the cornerstone of thriving neighborhoods and healthy cities," commented Dawn Lee, Executive Director of NHSIE.
"Our agency is committed to helping each family succeed and gain economic independence by providing case management assistance and referrals to our many partners throughout the County," said Maria Razo, HACSB's Executive Director.