Art as a catalyst for social change: Input sought for $4.7 million dollar grant to fund creative projects across Inland SoCal
3 min read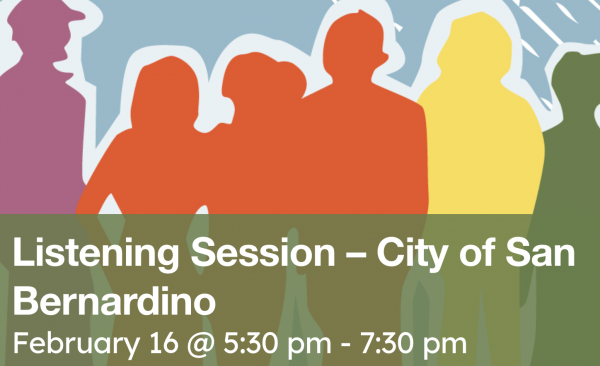 Creative Corps Inland SoCal is a newly created regional regranting program founded by the Arts Council of San Bernardino County, California Desert Arts Council, Riverside Arts Council and the Inland Empire Community Foundation (IECF). This new initiative will support Inland Southern California artists, cultural practitioners and creatives in projects related to health, environmental justice, social justice and civic engagement, with the intention to target high priority communities to benefit from this effort.
"Art is a catalyst for social change and an opportunity to build sustainability and strengthen the health of our communities. Through this opportunity, people who may have felt excluded in the past will be able to further value their community, take ownership and generate pride" said Rachael A. Dzikonski, Executive Director of the Riverside Arts Council.
Artists, cultural practitioners and creatives as well as Community Based Organizations (CBO), or local government agencies interested in supporting or uplifting art in their communities will have an opportunity to participate in a series of listening sessions hosted by Creative Corps Inland SoCal and provide input on what they would like to see in a regional regranting program. All of the input received will be incorporated into the grant program guidelines to be released in March 2023.
"Listening to the voices of artists, people of color, tribal communities and those that are most impacted by health and environmental issues are critical to properly inform our approach and process. We are not simply funding art projects, this is a pilot program for workforce development through the arts in the region. This program will have a lasting impact on how we view art and how we fund and promote art across Inland SoCal." Jennifer Kane, Executive Director of Arts Connection – The Arts Council of San Bernardino County.
"Art has often been siloed, seen as leisure or only available for people who can afford it. We believe art is valuable for creative thinking and expression. Our goal is to change the way people think about creative work and begin to envision solutions to systemic problems that may have not seemed possible before" said Kristen Dolan, Executive Director of the California Desert Arts Council.
Participants of the listening sessions will also be able to learn more about how to apply to the grants when they become available this spring. Creative Corps Inland SoCal partners' believe that funding in and around art can provide sustainable opportunities for artists, cultural practitioners and creatives in their communities. The vision is to cultivate long-term work partnerships and to expand work and career opportunities for artists and creatives in the Inland SoCal region well beyond the grant.
For more information on Creative Inland SoCal visit: creativeinlandsocal.com
List of upcoming Listening Sessions across the region:
RSVP via https://forms.gle/Gbbhovwfp9e5Zk7A7
Riverside County:
Riverside County Listening Session in Perris
Saturday, February 11, 12-3pm
Cesar E. Chavez Public Library
163 E San Jacinto Avenue, Perris, CA 92570
Blythe Creative Corps Listening Session
Wednesday, February 15, 3-4pm
Blythe City Hall
235 N Broadway, Blythe, CA 92225
Desert Hot Springs Creative Corps Listening Session
Thursday, February 16, 6-8pm
Desert Hot Springs City Hall
11999 Palm Drive, Desert Hot Springs, CA 92240
Riverside County Regional Listening Session in Jurupa Valley
Wednesday, February 22, 6-8pm
Glen Avon Library
9244 Galena St, Jurupa Valley, CA 92509
Riverside County Regional Listening Session in Banning
Saturday, February 25, 12-3pm
Dorothy Ramon Learning Center
111 N San Gorgonio Ave, Banning, CA 92220
San Bernardino County:
High Desert Listening Session in Apple Valley
Wednesday, February 15, 6-8pm
D.R.E.A.M. Lounge @The Wine Seller
19341 Bear Valley Rd. STE. 201, Apple Valley, CA 92308
Listening Session – City of San Bernardino
Thursday, February 16, 5:30-7:30pm
Thinkwise Credit Union
599 N E Street, San Bernardino, CA 92401
Central SB County Listening Session in Fontana
Saturday, February 25, 3-7pm
Jazz Fest: A Black History Month Celebration
Miller Amphitheater
17002 Arrow Blvd. Fontana, CA 92335
Virtual Listening Session:
Inland SoCal Region Wide Listening Session
Friday, February 17, 12pm