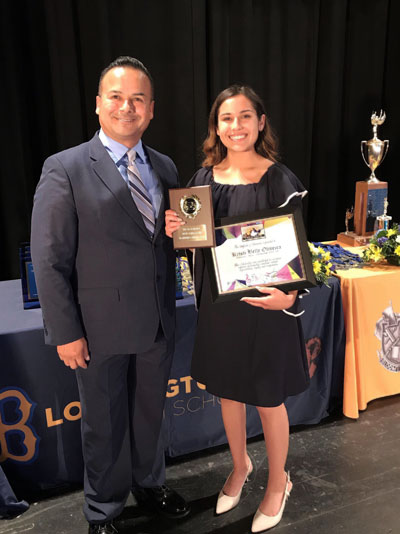 A musician, athlete, and scholar – meet Kristi Belle Oliveira, a Bloomington High School senior selected to receive Ceniceros Music Scholarship Award for the 2017 – 2018 academic year in recognition of her superior musicianship, academic success, dependability, loyalty and cooperation.
According to Ceniceros it is rare to see a student excel in a mix of cheer, violin and academics. Kristi will be graduating with an overall GPA of 4.12.

"She is amazing, she performed at many concerts and cheered for four years, it's time we cheer her on," Ceniceros remarked.
Kristi currently plays violin for the University of Redlands youth symphonies and orchestras, where she will be attending college in the fall.
I am so happy to be recognized for my music, it's always been my passion and this is my favorite scholarship," Kristi expressed via email. "I was already strong in academics and orchestra (at the beginning of high school), and my brother and mother influenced me to be a little more outgoing. So I joined ASB and cheer. And I absolutely LOVE cheer!!"
Ceniceros, who played trumpet in middle and high school and was a drum major his senior year, established the scholarship two years ago as a means of showing appreciation and gratitude of music performances.
The $300 stipend will be presented to Kristi at the completion of commencement, which she may use toward the purchase of a laptop, textbooks or supplies to assist her in achieving her goals in college.