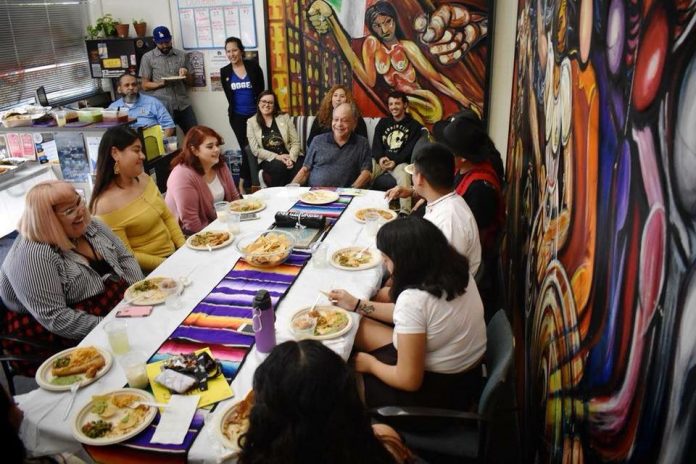 Comedian and actor Cheech Marin was celebrated during a reception at the Riverside Museum of Art on Oct. 26 for his contributions to growing the Chicano art scene in the city.
Marin, 71, is the owner of one of the largest Chicano art collections in the U.S. The longtime art collector decided to donate his 700 art pieces to the museum earlier this year. As a result, the city will be transforming the public library downtown into the Cheech Marin Center for Chicano Art, Culture, and Industry.

"The Cheech", the nickname museum officials and other art enthusiasts have given the center, is slated to open in 2020. After Marin announced his need to find a permanent home for his collection, the Riverside Art Museum stepped up and asked to be the hosts and curators of his vibrant collection.
"The Riverside Art Museum has been a cultural hub of our city for decades," Riverside Art Museum Executive Director Drew Oberjuerge said earlier this year. "A collaboration of this magnitude with the Cheech Marin Center would set the stage for the next step in the evolution of RAM for years to come."
Marin, who spent the entire day last Thursday interacting with UC Riverside students, said he believes Riverside is the ideal destination for a Latin American art scene.
"[Riverside] chose me," Marin expressed. "It was unexpected. They offered me this opportunity and I couldn't be more grateful."
A Memorandum of Understanding (MOU) was established between the museum and the City Council in May, setting in motion efforts to raise $3 million to transform the public library into the The Cheech. The 2017-18 state budget sets aside $1 million for the center, which museum officials say has made a key difference.
On October 24, the City Council approved a contract to allow architectural firm Page & Turnbull to begin the first phase of renovating The Cheech.
Marin believes the creation of the center will prove to be a monumental moment in Chicano history.
"This is the first museum solely dedicated to Chicano art," he said. "And there couldn't be a better place for it than the community of Riverside and the Inland Empire."
---
Join our newsletter for weekly wrap-ups of our community coverage, exclusive advertising opportunities and local business specials!