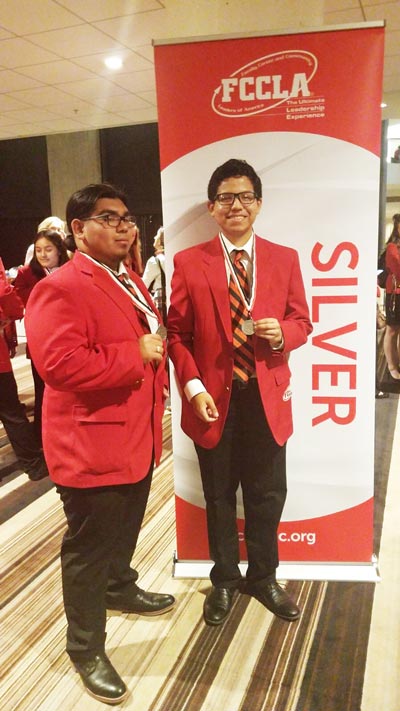 Congratulations to Colton High School incoming seniors Thomas Parada and Manuel Solorzano, who earned a silver medal at the FCCLA (Family, Career and Community Leaders) National Leadership Conference, held June 28-July 2 in Atlanta, Georgia! This marks the first time CHS students have competed at the national conference.
Thomas and Manuel advanced to the national competition after taking first place for their catering business plan at the California FCCLA State Leadership Conference in April. They went on to earn a silver medal in Hospitality, Tourism & Recreation at the national level. The Culinary Arts and Hospitality Linked Learning Pathway students developed their business plan as a project in Jennifer Wymer's Hospitality Marketing class.
"We are very proud of their hard work to prepare for the competition as well as their efforts as chapter officers to help promote leadership and family and consumer sciences in our school and community," noted CHS teacher and FCCLA Advisor Jenifer Poulsen.
More than 7,500 FCCLA student leaders, members, and advisors from across the countryparticipated in this year's FCCLA National Leadership Conference (NLC).  The Colton High School team was among46 California participants who earned 11 gold medals, 31 silver medals, and 4 bronze medals.
About FCCLA
Family, Career and Community Leaders of America (FCCLA) helps young men and women become leaders and address important personal, family, work, and societal issues through Family and Consumer Sciences education. FCCLA has more than 160,000 members and more than 5,300 chapters from 49 state associations, Puerto Rico and the Virgin Islands. Participation in national programs and chapter activities helps members become strong leaders in families, careers, and communities.