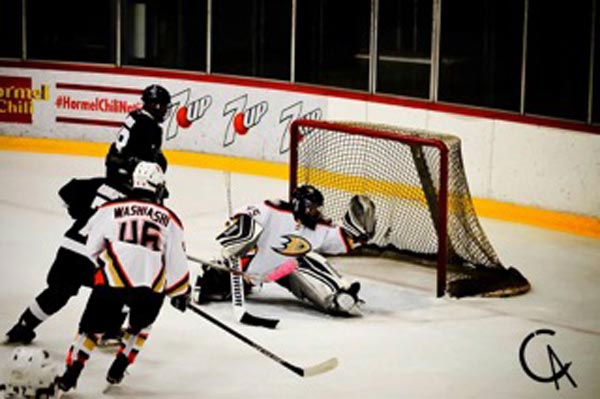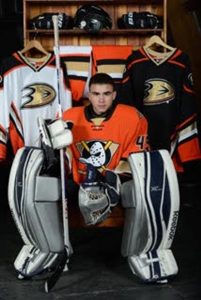 Local Rialto teen, Everett Bailey, 16, continues to take ice hockey by storm.
The Carter High School student is entering his Junior year, all while playing hockey for the Anaheim Junior Ducks and Upland Christian Academy.
"In 2017 Everett received recognition from the Mayor of Rialto, presented by Councilman Joe Baca Jr., for his exceptional skills in hockey and academics. They were so proud to have a citizen of Rialto playing ice hockey," said Everett's mother, Rebecca Bailey.
Everett currently holds a 4.3 grade point average and aspires to attend Notre Dame University after he graduates high school.
"Now beginning my fifth season, the progression has been showing. I've been getting offers from junior team and division three teams," said a humble Everett.
Rebecca said Everett is not one to be star-struck by professional ice hockey players that he often comes across, and that he is one of the most humble kids on the ice.
"He's a humble kid. He's grounded and well rounded. Everett's taking shots averaging 80-100 miles per hour. These former NHL'ers, they come in and see a goalie, their goal is to score. When they find out Everett is only 16, they're taken back. We get a lot of 'who is this kid?'" said Rebecca.
Everett often comes face to face with professional and former professional hockey players while on the ice with the Anaheim Junior Ducks, which is the same venue where the professional Anaheim Ducks play.
When asked how he felt playing at the same venue as the Anaheim Ducks, Everett replied, "The ice never changed. It didn't affect me too much because I was already playing in a big ice arena. I'm just here to play the sport."
In the past Everett has played ice hockey at the Staples Center in Los Angeles during an event for goalies, which he won, in front of 18,000 people.
During the past four ice hockey seasons, Everett has faced and overcome lots of adversity.
"Everett's progression with hockey is so significant because we don't have hockey here in the Rialto Unified School District (RUSD) area. Baseball, Football, water polo and tennis are recognized, but hockey isn't. We found ourselves having to educate Carter High School on hockey," said Rebecca.
Because RUSD doesn't have ice hockey available to students, Everett plays hockey at Upland Christian Academy.
"It's been difficult because I almost have to teach people about the sport that I play, so I have to elaborate a lot more. We're in Southern California, not everyone knows about hockey and how it exists," said Everett.
With hockey not as popularized in the west, it's left Everett having to constantly travel.
"Ice hockey is most popular in the upper mid-west and northeast, along with Canada," said David Bailey, father.
With Everett having to travel often, he has to work and study twice as hard.
"Playing hockey in California, Everett has to travel so much more, since he wants to play higher level ice hockey. He's been to Boston, Connecticut, St. Paul, Minnesota, Detroit, Vancouver, Notre Dame; we're having to travel out of state so he can play," Rebecca said.
Everett is currently gearing up for his fifth ice hockey season with the Anaheim Junior Ducks and Upland Cristian Academy; he begins practice next week and games start in September.
"I'm already in the gym conditioning myself. I'm a goalie, so I need to have a strong core to move around. I put in an hour a day, six days a week," shared Everett.
It's especially important for Everett to condition himself because on his current team with the Junior Ducks, this tough 16-year old is going head-to-head with players who are 17, 18, 19, and even 20 years old.
This Sunday, July 22, Everett is headed to Massachusetts to try out for a junior league.
"We've put out around almost $20,000 each year for Everett to play hockey. Our philosophy is, if you commit to us, then we'll commit to you. We'll make it happen. This is something he truly wants," concluded Rebecca.
Until Everett makes it to the professional NHL, visit juniorducks.com to keep up with his upcoming hockey games with the Anaheim Junior Ducks.