Colton Police Department Volunteer Sergio Ojeda Honored with "Community Impact Award"
3 min read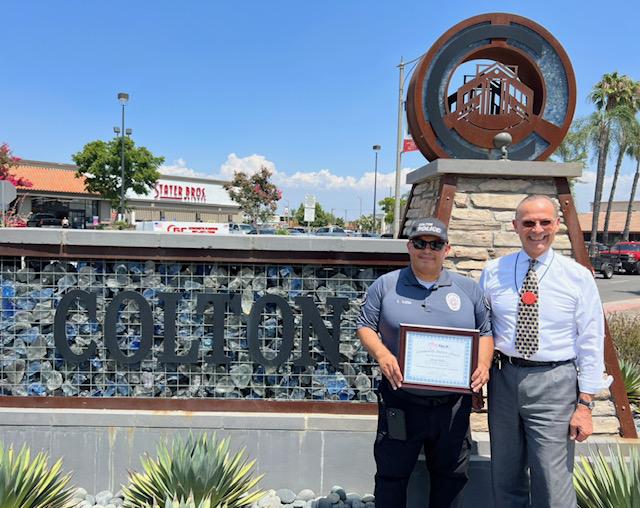 On Friday, August 11, 2022, Council Member Dr. G (Dr. Luis S González) presented the CITY TALK "Community Impact Award" to Sergio Ojeda, community partner and one of our highly-respected citizen volunteers for the Colton Police Department.
This presentation was made in recognition of the numerous hours and levels of service by Sergio Ojeda, who, through his volunteer efforts, has become a valuable asset to the Police Department. Cpl. Mike Sandoval, Citizen volunteer coordinator, explains, "Sergio helps to alleviate officers at a scene so the officer can move on to respond to calls."
Sergio has stepped-up many times in this capacity and is often seen on the street directing traffic, clearing debris, or setting up police lines. According to Police Chief Tim Heusterberg, "The Citizen Volunteers are an integral part of the Police Department and to the community." Heusterbeg elaborated, "Sergio has been willing to help whenever called upon and has been a critical part of our police response, especially during a crisis or critical incident."
For seven years, Sergio has served the community of Colton and continues to be available when called upon. He puts in, on average, 300 hours each year and has learned the process so well that he can report to a scene and "get right to work." In addition, Sergio has received formal training using the police radio system, which further supports the police response efforts. Chief Heusterberg calls Sergio "a valuable asset" and explains that "Citizen Volunteers help in many ways, including traffic control, crime scenes, resident checks, extra patrol, writing citations, and providing a police presence."
When asked about serving as Citizen Volunteer, Sergio commented, "I always wanted to help the community and citizens of Colton." As a resident of Colton, Sergio not only knows the city well and can respond quickly. Sergio does hold his job during the week, but because of the flexibility of hours, he is available most of the time and is willing to help where needed.
Because of his volunteer efforts, people skills, work ethic, and dedication, Sergio is regarded as a valuable asset to the Police Department. His colleagues in the program look to him as a role model, and the Police administration counts on him to help whenever called upon. This presentation's purpose was to officially recognize Sergio's volunteer efforts and show appreciation for his dedication to the Police Department and the community.
The CITY TALK "Community Impact Award" was established in 2020 by Dr. G to recognize people's outstanding efforts "behind the scenes" to make our community, the City of Colton, a better place. Mr. Sergio Ojeda is an excellent choice for this recognition. His time and effort in supporting the Police Department, and the community, is exactly what this award is about. Dr. G is a Council Member and well-known community advocate.
For more information about CITY TALK, various community groups, Colton history, the trash clean-up project, the G-Team, prayer list, history briefs, Veteran Spotlight, Church Spotlight, Business Spotlight, U.S. flag watch, neighborhood meetings, community projects, and events, or the online live-stream programs, contact Dr.G @ 909-213-3730. Questions and comments are always welcome.