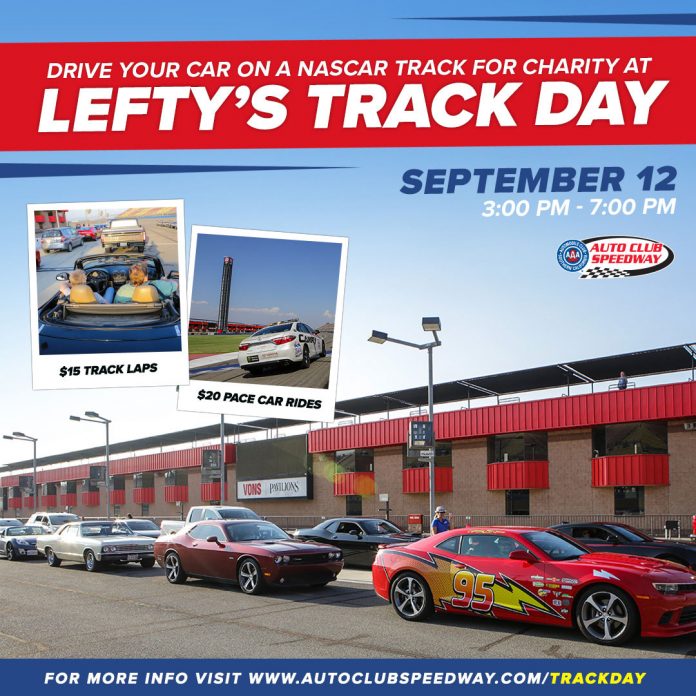 Auto Club Speedway is waving the green flag for the community to drive their own vehicle on the same two-mile superspeedway that NASCAR drivers recently raced at over 200 mph as part of the popular charity event Lefty's Track Day on Wednesday, Sept. 12 from 3 p.m. – 7 p.m. This is the only time of the year when the public can drive their personal automobile on the oval.
Paced by the Speedway's Official Toyota Camry Pace Car, participants who make a $15.00 donation can drive their vehicle on the track. Plus, guests can experience a pace car ride at speeds up to 100 mph for only $20.00.
All proceeds from track laps and pace car rides will benefit the Auto Club Speedway Foundation which supports Lefty's Reading Challenge, a program that encourages reading excellence from Southern California elementary school children and provides grants to local school libraries.
Lefty's Reading Challenge, named after Auto Club Speedway mascot Lefty, is part of Auto Club Speedway's heralded youth initiative.  More than 147,000 students from over 230 elementary schools in San Bernardino, Riverside, Orange and Los Angeles Counties read thousands of books during Lefty's Reading Challenge earlier this year, winning thousands of dollars for their school libraries.
In addition, car clubs throughout Southern California are invited to participate at Lefty's Track Day and can sign-up to have designated areas to display cars. Food vendors and family-friendly activities are also available during Lefty's Track Day.
For more information about Lefty's Track Day, visit www.leftyskidsclub.com or call 909-429-5000.