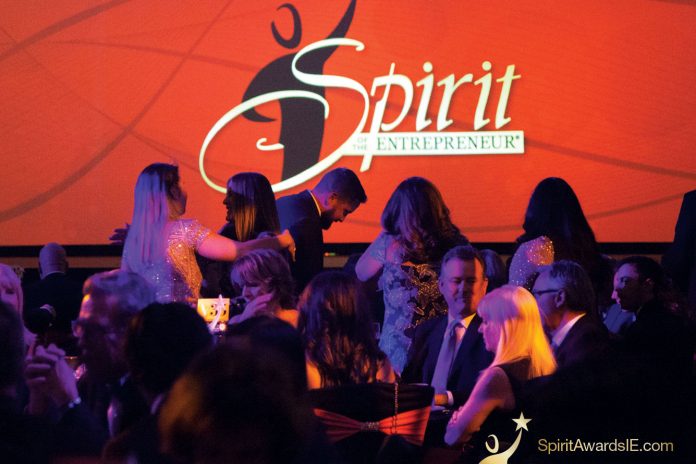 The Inland Empire Center for Entrepreneurship (IECE) at Cal State San Bernardino announces the opening of the Spirit of the Entrepreneur Awards ticketing. The Spirit Gala will be held at the Riverside Convention Center on November 15th, 2018. Top innovators from the Inland Empire will compete to win awards ranging from nine entrepreneurial categories, each honoring the leadership, determination, teamwork, community involvement and risks taken to build successful entrepreneurial companies. An independent panel of judges consisting of past Spirit Award recipients.selecting finalists and award recipients from a vast field of over 200 nominees is Finalists to be announced September 27, 2018.
Dr. Mike Stull, Founder & Producer of the Spirit of the Entrepreneur Awards, said, "Each year I am continually reminded of how many inspiring and successful entrepreneurs we have in Inland Southern California. From small and emerging companies, to impressive innovators and unique manufacturing firms, this region is a hotbed of entrepreneurial activity.  As we present our 16th event, I hope you will join us for an evening that celebrates how entrepreneurs "expect the unexpected" and turn dreams into reality."
Ticketing
Attendees can book tickets online with direct seat selection for the 2018 Spirit of the Entrepreneur Awards gala event at http://www.spiritawardsie.com. Ticket prices for the black-tie event range from $135 to $175 each. Full-table discounts are available.
Spirit Awards Event Features:
Commencing at 5:00 p.m. on November 15th, attendees will experience either a Gala or VIP reception, 3-course dinner, stellar event entertainment, awards presentations, and for select parties, an exclusive after party!
The "Best of the Best" award. Sponsored by Best, Best & Krieger, LLP
The top entrepreneur from among the evenings' award recipients that best exemplifies the entrepreneurial spirit will take home the 2018 Best of the Best award.
The Garner Holt Student Fast Pitch Competition
Witness 90-second business pitches from competing student finalists.  Audience members cast their votes for the best business idea through a live voting poll to determine which students will walk away with the top cash prizes.
Entertainment
Upcoming entertainment guest stars are always an anticipated reveal during the gala. Past events have included top-flight entertainment such as: Rock Legend Eddie Money, Ekenah Claudin-Transcending Box, and Gregory Adamson- Facing the Music Performance Artistry.
VIP Reception Sponsored by City National Bank an RBC Company
Treat yourself to a luxurious experience only available to VIP ticket holders. The 2018 Spirit VIP Experience includes access to the exclusive pre-show VIP reception with hosted bar, hors d'oeuvres, entertainment, and preferred access to showroom seating for the gala presentation as well as top section seating for the main event while you enjoy specialty selected cuisine for your 3-course dining experience.
All proceeds from the Spirit of the Entrepreneur event benefit the Spirit of the Entrepreneur Scholarship established by Dr. Mike Stull, Director of Inland Empire Center for Entrepreneurship at California State University, San Bernardino. The scholarship is awarded to vetted and deserving entrepreneurship students in order to assist them in achieving their degree.
EVENT SPONSORS
The Spirit of the Entrepreneur event is presented by the Inland Empire Center for Entrepreneurship (IECE) and the Jack H. Brown College of Business & Public Administration at California State University San Bernardino and sponsored by a wide range of local organizations including:
PLATINUM SPONSORS – Best Best & Krieger LLP, Vistage, Southern California News Group, Bank of America, and Inland Empire Magazine
GOLD SPONSORS – San Bernardino County EDA, Pacific Premier Bank, City of Riverside, US Bank, Wilson Ivanova CPAs, Wells Fargo, Altek Media Group,JPMorgan Chase & Co., and Riverside County EDA
SILVER SPONSORS – Varner & Brandt LLP, UPS, CDC Small Business Finance, The Community Foundation, SmartSyt, and City of Ontario
JUDGING RECEPTION SPONSOR – Roorda, Piquet & Bessee, Inc.
VIP RECEPTION SPONSOR –  City National Bank, An RBC Company
AFTER PARTY SPONSOR – Leadership Dimensions, Inc.
More information about sponsorship & volunteer opportunities please contact Mike Stull (909) 537-3708 or via email mstull@csusb.edu.