Crafton Hills College breaks ground on new $9.5 million Public Safety Training Center
2 min read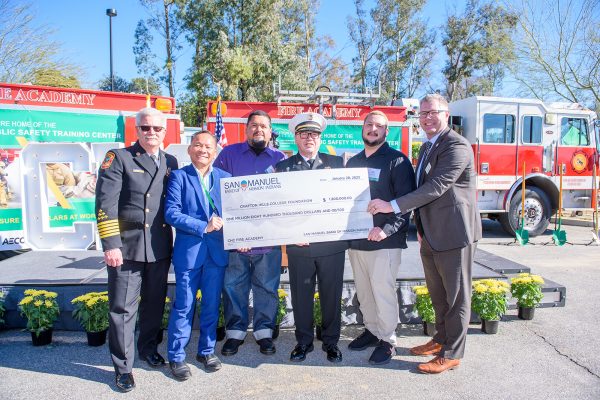 Construction is underway on Crafton Hills College's (CHC) voter-approved and funded Public Safety Training Center, following a groundbreaking ceremony on January 20 in front of a crowd of more than 150.
Upon completion, the $9.5 million facility will house CHC's Fire Academy and public safety programs and further elevate CHC's reputation as one of the premier public safety colleges in the nation. The Public Safety Training Center was made possible thanks to the vision of current and former CHC leaders and funding from 2018's Measure CC, approved by voters to fund campus upgrades at both CHC and its sister college, San Bernardino Valley College.
Consistent community support has been the cornerstone of the public safety programs' successes. Neighboring agencies, like the San Manuel Band of Mission Indians and its fire department, have partnered with CHC to provide necessary tools of the trade, such as fire engines, equipment and training while supporting students' growth with scholarships.
During the groundbreaking, Tribal leaders presented a check for a $1.8 million grant that will cover student out-of-pocket expenses associated with the program. The need for a steady income and secure housing is an obstacle for many who wish to study public safety fields, said Ed Duro, San Manuel Business Committee member-at-large.
"San Manuel believes that those with their heart [set] to serve others should be able to, especially if they come from historically underrepresented communities," said Duro, a CHC alumnus, as Tribal leaders presented the gift during the event. "This is why I am proud to announce our investment to offer direct support to students, enabling them to devote themselves to the program. It is a priority for the Tribe to advance these opportunities for everyone regardless of background."
"This project has been a decade in the making and serves as the best example of what happens when a community comes together for a common goal," said CHC President Dr. Kevin Horan.
Dr. Stephanie Houston, chair of the San Bernardino Community College District Board of Trustees and a CHC alumna, called the new facility "near and dear" to her heart. As a parent of a first responder, Houston said the Public Safety Training Center brings her a sense of relief because "at that end of the day, [first responder graduates] are going to rely on their training, and their training all started here," she said.
"So, as we look at our cadets, this next generation of students who are going to be coming through this amazing facility that we are building, [we will know that] it's to ensure that parents, siblings, spouses and children of our first responders can sleep at night," Houston said during the ceremony. "Because they can rely on that training we provide [to their loved ones]. This is an amazing opportunity for all of us."