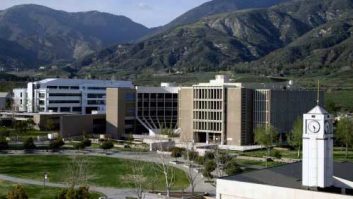 The Undocumented Student Success Center (USSC) at Cal State San Bernardino has been named one of "20 Programs to Watch" by Excelencia in Education, a nonprofit organization dedicated to accelerating Latino success in higher education.
The USSC is one of 20 other higher education programs around the country recognized by Excelencia in Education for accelerating student success. The nonprofit has also named 16 initiatives at the college level as the 2019 Examples of Excelencia finalists.
"This is wonderful news and an acknowledgement of the hard work and dedication of the Undocumented Student Success Center's leadership, staff and students," said CSUSB President Tomás D. Morales. "It's also a tribute to all our faculty and staff who support the center. The center is an exceptional example of our ongoing mission to help students excel."
"By promoting and celebrating what works in serving Latino students in higher education, Excelencia increases awareness about the positive impact of the growth of the Latino population and programs that serve them well," said Sarita Brown, president of Excelencia in Education. "Examples of Excelencia inspires leaders to implement innovations that can serve all students."
The 2019 Examples of Excelencia will be revealed on Oct. 24 at the Celebración de Excelencia at the Mayflower Hotel in Washington, D.C. This year, Excelencia received 166 program nominations from 32 states, Puerto Rico and the District of Columbia. One program will be chosen from each of four categories – Associate, Baccalaureate, Graduate and Community-Based Organizations – by a national selection committee comprised of higher education leaders, grantmakers, professionals, and stakeholders.
The final four will be chosen based on evidence of their effectiveness to serve Latino academic achievement at their institutions and community organizations.
The CSUSB Undocumented Student Success Center opened its doors on Nov. 5, 2015, becoming the fourth such center in the California State University system. The center was established to serve the undocumented student population on the CSUSB campus. The center serves as a commons space for students and allies to connect with each other about issues regarding immigration, AB 540, employment opportunities, scholarships, internships, information about graduate school and other resources that will help achieve student success.
It has hosted multiple informational workshops related to CSUSB undocumented students and for the on- and off-campus community.