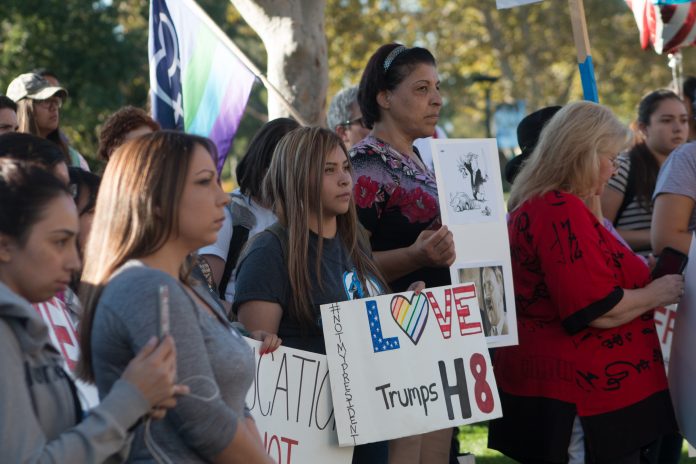 Approximately 200 students gathered at Cal State San Bernardino on Monday to protest results of last Tuesday's presidential election.
The "Not My President" rally at Cal State San Bernardino was the latest of events held to protest Donald Trump's election as the next and 45th U.S. President and to denounce hate speech directed towards African Americans, Latinos, Lesbian, Gay, Bisexual, Transgender, Queer (LGBTQ) community, and women.
Groups of students walked through the campus, holding signs and shouting slogans. No police presence was observed at the event; however, no incidents were reported.
Jennifer Bacon, a peer educator with campus anti-violence group VOICE, said the organization  received threats from students on their Facebook page following the election. The 26-year-old Riverside resident said VOICE held the protest to set a platform for students to express their grievances.
"I'm scared for what might happen to our country, for the undocumented, for the LGBTQ community, and for anyone who is not light-skinned," Bacon said. "We're here today…we will not stand for injustices. Our message to [Donald Trump supporters] is that we're here to educate them."
College and high school students across the nation continue to hold Anti-Trump protests. In places such as New York City, San Francisco, Portland, and Los Angeles demonstrations have taken place for nearly a week.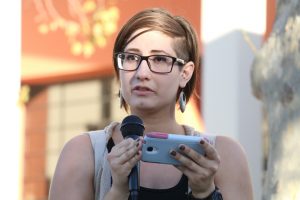 Political Science student Bronzel Johnson, 25, said the protests indicate to Trump that the U.S. is, "greater than one individual man."
"We need to focus on treating all people better," said Johnson. "We should want all people to do good."
Melissa Bird, a Ph.D candidate and adjunct professor at CSUSB, encouraged the young protesters to continue to vote in future elections and become involved in local politics.
"This graceful revolution is simple," she said. "We agitate by voting in every single election. We introduce ourselves to all our elected officials and tell them our stories. They work for us, we employ them. We agitate by becoming the change we want to see in our community."
Graduate Communications student Rich Contreras of Riverside said that it would be better for students to, "take a breath and step back."
"I know many people are shocked Trump got elected. Most of his hateful rhetoric was campaign-normal. We've seen it before. I think everything will calm down. The president elect is going to find out that putting his agenda together won't be so easy. This country needs to come together and support our president."