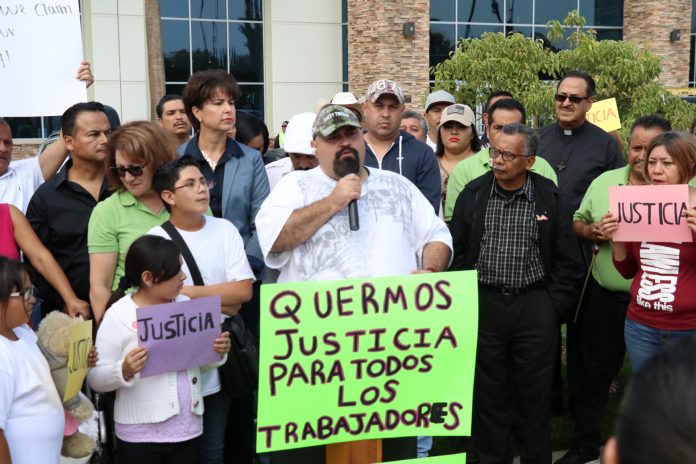 Hundreds of displaced Ashley Furniture workers marched and protested near the company's homestore in Colton on Labor Day to seek answers regarding their employment termination. Many of the workers believe the company's decision to shut down manufacturing plant operations comes from their attempts to unionize for better working conditions.
"We were a united family with work, and now we are a united family without work," said Israel Naja. "There were times when we weren't heard, times when supervisors would not make themselves available. We are going to demonstrate to them that we mean action and that we are not all talk like they are."
On August 26, approximately 850 employees of Ashley's manufacturing plant were told by company representatives that they would be out of jobs after October 25.  A statement released by the company explained that Colton's bedding and upholstery production will be absorbed by other manufacturing facilities in Mississippi, North Carolina, and Wisconsin.  
"By shifting the majority of Colton production to other U.S. facilities we will create more efficiency and better use of existing capacity in our manufacturing network," the statement reads.
Naja and other leaders believe that to be untrue–instead claiming that the company failed to live up to their promises. They shared a letter written by Ashley Furniture Chief Executive Officer Todd Wanek–expressing a personal commitment to employees' success and growth, while asking them to reconsider unionizing.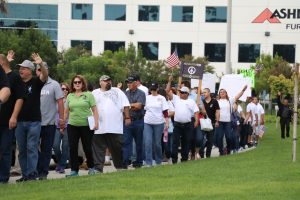 "Please give time to think about what your vote will mean, I hope you feel as strongly as I do that we are family, one that is not perfect but one that we know is better when we work together directly to resolve our challenges," reads the letter. "At the end of the day, I hope you share my belief that voting "NO" to the union is the right decision.
Ashley spokesperson Jason Lockington said the company's decision to shut down Colton operations was not a response to the workers' unionizing efforts. "It is absolutely not true," he said in an email.
Displaced workers on Monday said they were underpaid at times by the company without explanation, and not listened to when concerns were brought forth. Employees were often discriminated and harassed, according to Celia Alvarez.
"Many workers were mistreated," she said. "If you voiced your concerns or questioned the company, you were viewed almost like a criminal. There was a lot of intimidation that went on in order to force people out."
Steven Dela Portia explained he was punished for voicing an injury concern and was forced to go back to work.
"I hurt my neck and my back, so the doctor placed restrictions on me. I spoke to human resources, but nothing was ever done," he said. "When I heard there was a union, I expressed interest. When the company found out, I was segregated from all the employees and was forced to quit. In the end, I chose the union because I felt they respected me and were interested in addressing my concerns."
Senator Connie Leyva (D-Chino) came out in full support of the displaced workers–vowing to further investigate if Ashley breached federal labor law.
"We're not going anywhere," said Leyva.  "Stand strong together. We have your back."