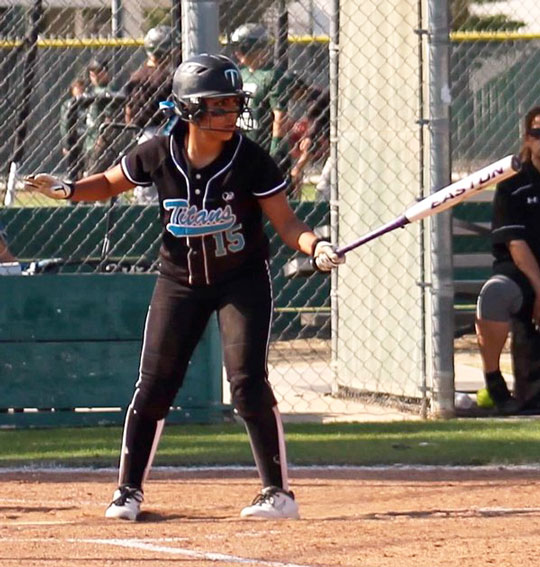 Slugging infielder Eliyah Flores of Grand Terrace High School will join former teammate Melanie Olmos next season at the University of Oklahoma, where she will play softball on scholarship for the 2015-2016 College World Series Champion Sooner's. Flores contractually signed on Nov. 9, which was National Letter of Intent Day.
Others from last year's Grand Terrace CIF-Division 3 championship team to sign for college scholarships are Lily Bishop, who will play at North Carolina State, Alyssa Martinez who will travel to the University of Mississippi, Yesenia Morrison to Grand Canyon University, and Morgan Parson (Hawaii).

Before they graduate this year, the five will attempt to win their fourth Sunkist League championship, having compiled at 43-1 league record over the last three seasons. Despite being pitched around last season, Flores slugged eight home runs and drove in 27 with a .451 batting average. Flores brought attention to herself as a sophomore by hitting 13 home runs with 31 RBI and a ,495 batting average. In the last two seasons she has led the team in runs scored and has stolen 14-of-14 bases.
In a statement from Oklahoma coach Patty Gasso, she pointed out that Flores is just one of four new recruits to her national championship team. "This class, as a whole, has a lot of power. They can hit the ball hard and they're very strong," said Gasso. "Each one of these athletes have been playing for championships so they have the pedigree to win championships." She feels with such experience, her recruits have the ability to step right in and perform at the national level.
In her bio, it states Flores has lived her entire life in Grand Terrace. She was a Sunkist League MVP and has been chosen all-area and all-county each of the last three seasons. Flores was All-CIF First Team last season and along with her Division title last year, was on the Grand Terrace runnerup team in 2015.
Flores told Oklahoma administrators that their college has a family-like vibe. "As soon as I stepped on that campus, it just felt like home. I look forward to accomplishing goals that will forever be remembered. In this case, it's winning some championships with my sisters."
Gasso thinks Flores will become an instant fan favorite because of her passionate style of play. "I like her versatility and her athleticism. She plays on one the best travel ball teams in the country and won the Premier Girls Fastpitch Championship with Tony Rico's Firecrackers. She's surrounded with other outstanding athletes, so I think it's really elevated her game and she's been doing that since she has been young." Gasso noted that Flores has usually been the youngest kid on the team, "so she's grown up in that environment and it shows."
Flores has played for Huntington Beach-based Tony Rico's travel team for three seasons. Its championship winning 18U game against the California Elite was televised by ESPN sports network. Grand Terrace coach Bobby Flores could not be reached for comment about his other scholarship players.