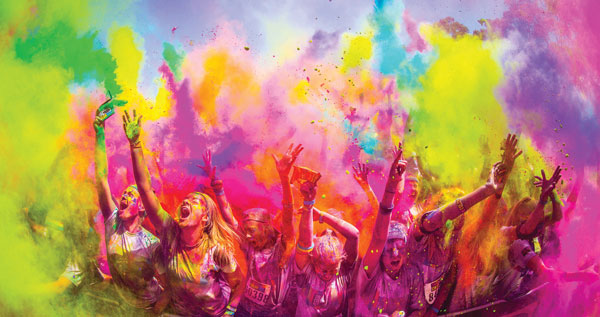 (Riverside, CA) January 19, 2017 – Join us at the 2017 START R.I.G.H.T. KICK-OFF COLOR RUN event, as we kick o our city-wide, healthy living campaign and challenge. is is a FREE event with required registration online (www.startrightriverside.com).
THE START R.I.G.H.T. (Riverside Is Getting Healthy Together) CHALLENGE encourages those who live and work in Riverside to improve their health through educational and exercise opportunities. e ultimate goal of the Challenge is to decrease the overweight and obesity percentages of adults and children in the community, and inspire "Riversiders" to live more t, fresh, and fun lives!

THE START R.I.G.H.T. CHALLENGE begins with a KICK-OFF COLOR RUN on January 21st from 8:00 am to 12:00 pm (rain or shine) at the Springbrook Golf Course, 701 N. Orange St., Riverside, CA 92501 (next to Reid Park). e Challenge will continue through April 22nd, highlighting 2-3 city-wide healthful events per week. A variety of activities are available to participate in such as: boxing, bootcamp, walks, Zumba, and more to help you stay t! ere will also be a place to log your exerecise during the challenge by using MyPassport on www.startrightriverside.com.
In addition, prizes will be given away to valid challenge participants, which include $500 to the school that logs the most hours; $500 to the person who loses the highest percentage of body weight; $300 to the person who has the highest participation in designated START R.I.G.H.T. activities; and $300 to a random participant who weighed in and out.
e much anticipated KICK-OFF COLOR RUN event is one you don't want to miss! Register for the KICK- OFF COLOR RUN and THE START R.I.G.H.T. CHALLENGE online at www.startrightriverside.com. For more information on Riverside Community Health Foundation visit www.rchf.org.