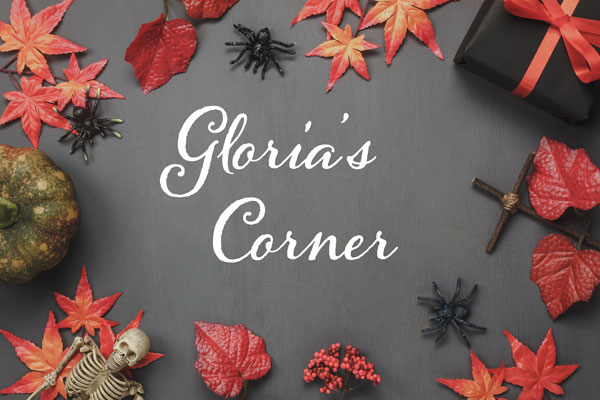 Gloria's Corner
December 28, 2017
Exhibits, Theatre & Seminars, Workshops:
Now – December 31 – Magic of Lights Fontana presents A Spectacular Mile-Long Drive-Through Holiday Lights Experience at the Auto Club Speedway, 9300 Cherry Ave., Fontana. This event is a 1.5-mile drive-thru featuring LED displays and digital animation. The 20- to 30- minute experience is family friendly and affordable. Times: Sunday – Thursday from 5:30 to 9:00 p.m. and Sundays from 5:30 to 10 p.m. For ticket information visit: www.magicoflights.com.
Saturday, January 6 – the Ontario Museum of History & Art, 225 S. Euclid Avenue, Ontario, presents Book Chat, The Underground Railroad: A Novel (Pulitzer Prize Winner and Oprah Book Club Pick) from 12:00 to 4:00 p.m. The book chat is moderated by Shelia Marchbanks;  participants will have the opportunity to share ideas and opinions about the book. Books are available at the museum book store, Ontario City Library, online or at a local book store. Light refreshments and hors d'oeuvres will be served. Reservations are required for this free event. For information or to make a reservation call 909.395.2510.
Now – January 7, 2018 – the Sam and Alfreda Maloof Foundation for Arts and Crafts presents New Native: Toward New Mythologies at the Jacobs Education Gallery Center featuring more than 50 works by eleven indigenous artists. According to curator and artist Tony Abeyta (Navajo), "We are exploring ways that traditional forms and practices, iconography and ancestral mythologies influence the expression of contemporary Native artists' modernity, technology and social priorities." Featured artists (and tribal affiliations) include: Christi Belcourt (Metis), Gerald Clarke, Jr. (Cahuilla), Craig George (Navajo – Dine), Steven Paul Judd (Kiowa/Choctaw), Monty Little (Dine), Cannupa Hanska Luger (Arikara/Hidatsa/Mandan/Lakota), Kent Monkman (Cree), Cara Romero (Chemehuevi), Diego Romero (Cochiti Pueblo), and Preston Singletary (Tlingit). Admission is free. For information and gallery hours call: 909.980.0412 or visit: malooffoundation.org. 
Monday, January 8 – the Redlands Senior Center, 111 W. Lugonia Avenue, will start Zumba Gold classes on Mondays from 10:00 to 11:00 a.m. This program is designed for the older active adult. It is low-impact, easy to follow, Latin-inspired dance fitness. For information call: 909.798.7579.
Thursday, January 11 – the Ontario Museum of History & Arts,  225 S. Euclid, Ontario presents a lecture, The Citrus Industry in the Inland Empire, with Dr. Vince Moses, former Director of the Riverside Metropolitan Museum, and Theresa Hanley, Executive Director of the Reeder Citrus Ranch, a City of Montclair Historical Landmark. A tasting of local citrus is included. Reservations are required for this free event. For information or to make a reservation call: 909.395.2510.
Now – February 10, 2019 – the Los  Angeles County Museum's Autry Museum of the American West presents "La Raza". This exhibit features more than 200 archive photos from La Raza, the Los Angeles Newspaper Central to the Chicano Rights Movement in the 1960s and 1970s. Between 1967 and 1977, La Raza was witness to and participant in the movement for social justice.  The Museum is located at 4700 Western Heritage Way in Los Angeles.
Save the Date:
Sunday, December 31 – The Unforgettables Foundation presents Lights for Little Lives Memorial Walk & Candle Lighting Ceremony beginning at the Ronald McDonald House, 11365 Anderson Street, Loma Linda at 3:30 p.m. The walk is followed by a service of celebration at Campus Hill Church, 11057 Hill Drive. This event celebrates the births of Inland Empire babies as well as share in the sorrow of families who have experienced the painful loss of a child over the past year.
Monday, January 1 Happy New Year – 2018
National Citrus Month
Monday, January 1 – Wood Canyon State Park, 12241 Canyon Drive, Yucaipa, will hold Take a Hike! New Year's Day Hike from 2:00 to 4:00 p.m. on the Oak Tree Loop & McCullough Loop Trail. Participants will meet on the concrete slab near the dirt parking lot. This is a family friendly, easy to moderate hike. It is required that participants download the application "Agents of Discovery" and the "Wildwood Canyon State Park Mission" at home prior to the event at the "App Store" or at "Google Play". No data or WiFi is needed as it uses GPS information.
Tuesday, January 2 – the San Bernardino Public Library presents a performance/educational demonstration featuring musician Sean Gaskell on the West African Kora. Gaskell will feature traditional songs that are the heart and soul of the Koras musical repertoire as well as some of his personal compositions. This free performance will be in the Bing Wong Auditorium at the Feldheym Central Library, 555 West 6th Street at 4:00 p.m.
Monday, January 8 – the Redlands A. K. Smiley Public Library presents "Sean Gaskell: Music of the West African Kora" at 6:00 p.m. in the library's Assembly Room, 125 W. Vine Street. The performance will feature traditional songs on the Kora, a 21-string harp from Gambia West Africa. Many songs tell ancient stories of war and hardship, while others praise people who helped expand the Mande Empire. Some songs can be traced back 800 years to the founding of the Mande Empire.
Tuesday, January 9 –  The A. K. Smiley Public Library presents cooking instructor and food coach Chef Colette Woods in a hands-on culinary program, Healthy Snacks on the Go Cooking Class,  from 6:30 to 7:30 p.m. at the A. K. Smiley Library Contemporary Club, 173 S. Eureka Street, Redlands. This free event focuses on healthy foods and easy recipes that can be easily incorporated into any diet. To RSVP call: 909.798.7565.
Friday, January 12 – Hispanas Organized for Political Equality (HOPE) and National Latina Business Women Association present the Annual Latina Empowerment Day: Wealth/Wisdom at DoubleTree By Hilton San Bernardino, 285 E. Hospitality Lane. This event is slated from 8:30 a.m. to 3:00 p.m. There is a $25 fee for this daylong event of intensive workshops. The topics this year include: energy & environmental policy, financial success, and secrets of negotiation. To register online contact: https://ledsanbernardinoeventbrite.com For information contact: events@Latinas.org.
Saturday, January 13 – the Glen Helen Regional Trout Derby is slated from 7:00 a.m. to 1:00 p.m.  Gates open at 6:00 a.m. and a California State Fishing License is required. There is a per person entry fee and per vehicle fee. Prizes include $1,000 in cash and prizes awarded to the top 25 weighing trout.  Glen Helen Regional Park  is located at 2555 Glen Helen Parkway, San For information call: 909.387.2757.
Saturday, January 13 – the Joe Baca Foundation and the Inland Empire 66ers present Baseball & Softball Fitness Clinic 2018 Health Fair from 9:00 a.m. to 12:00 noon at the San Manuel Stadium, 280 South E Street, San Bernardino. The clinic is free for all boys and girls ages 7 to 13. Children will learn basic fundamentals of baseball and fitness tips. Free lunch is provided to participants and registration begins at 8:00 a.m. This event features special appearances by professional baseball players plus Ronald McDonald and 66ers mascot Bernie. For information or to RSVP call Natalie at 909.202.9035.
Saturday, January 13 – the San Bernardino County Coalition Against Sexual Exploitation (CASE) and  the Southwest Conference Against Trafficking (SWCAT) present the 8th Annual Walk Against Human Trafficking from 9:00 a.m. to 12:00 p.m. at the Ontario Hotel & Conference Center, 700 N. Haven Ave., Ontario. This event is meant to raise awareness about human trafficking. For information and to register visit: https://casewalk2018.evenbrite.com.
Monday, January 15 – Martin Luther King Jr. Day
Wednesday, January 17 – the Inland Empire Economic Partnership presents its Annual Dinner &  Awards Reception at the DoubleTree by Hilton Hotel Ontario Airport, 222 North Vineyard Avenue, Ontario from 6:00 to 8:00 p.m. This event celebrates the accomplishments of the year and honors persons, companies and institutions who have made a difference for the people of Riverside and San Bernardino Counties. For ticket and sponsorship information contact Melisa Castro at mcastro@ieep.com or call: 909.944.2201.
Favorite Quote:
"In three words I can sum up everything I've learned about life: it goes on."
– Robert Frost
To submit an event or information for Gloria's Corner please email: gloscalendar@gmail.com.
Deadline is Friday at noon each week.
Also visit: www.iecn.com for online news and follow us on Facebook @IECNWeekly