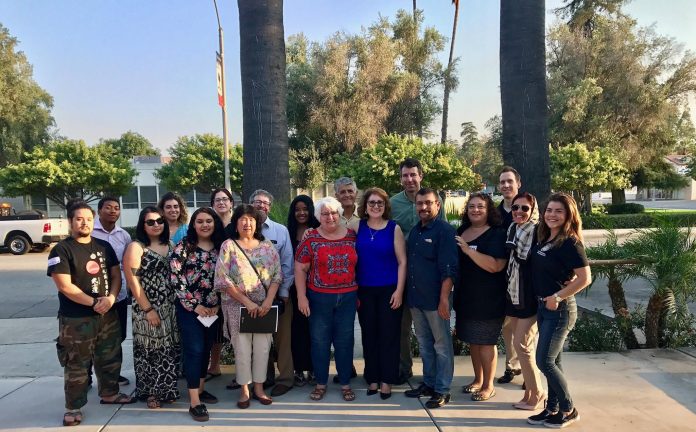 Update July 18, 2017 5:15 p.m : Story edited to include statement from Assemblyman Marc Steinorth (R-Rancho Cucamonga) and information on AB-617. 
---
Local state lawmakers voted on legislation Monday that extends a cap and trade program billed as California's premier plan to fight climate change.
Known as the Global Warming Solutions Act of 2006 (AB 398), the policy requires industry to purchase permits to release greenhouse gases.
Senate and Assembly support for AB 398 bolsters Governor Jerry Brown's ambitious plans to slash emission output by nearly half by 2030. Extending the Global Warming Solutions Act of 2006 saw state Democrats and some Republicans work together–an effort Brown is hailing as "courageous."
"Tonight, California stood tall and once again, boldly confronted the existential threat of our time," Brown said in a press statement. "That's what good government looks like."
Senator Connie Leyva (D-Chino), Assemblywoman Eloise Reyes (D-Grand Terrace), and Assemblyman Marc Steinorth (R-Rancho Cucamonga) all voted in favor of the legislation.
Leyva and Reyes explained they supported AB 398 because it will help quell long term threats to the health, safety, and economic strength of the Inland region.
"Although imperfect, these measures are a compromise that will allow California to continue to lead on critical issues while the Trump agenda continues to languish in Washington," Reyes said. "Today's vote is a step in the right direction and part of a larger dialogue that will move our community forward."
Steinorth hailed the bi-partisan cap and trade agreement as a "smart and sustainable" policy that will positively impact future generations.
"Revising cap and trade today strikes a balance between lower emissions and saving the jobs of working, middle class families," Steinorth said in a press statement. "I am proud to have worked on a plan that is supported wholeheartedly by both business and environmental coalitions."
Meanwhile, environmentalists expressed disappointment with Monday's vote. The Center for Community Action and Environmental Justice (CCAEJ) referred to AB 398 as an ill-judged proposal to meet industry demands.
"Dark day today as our representatives and [Gov. Brown] betray us with a Cap and Trade dirty deal with Big Oil," wrote CCAEJ Executive Director Penny Newman on her Facebook page. "All erroneously in the name of [environmental] justice."
Senator Mike Morrell (R-Rancho Cucamonga) also demonstrated sharp opposition to the cap and trade extension. Along with fellow Senate Republicans, Morrell wrote a letter to Gov. Brown expressing concerns with the way the legislation was handled and rushed to a vote.
"Given the magnitude of its effect on the price of food, fuel, electricity, manufactured goods, and numerous statewide businesses that are sensitive to price increases in the price of fuel and power, it is astounding that a bill of this import would be rushed through the Legislature so quickly without time for meaningful public discussion and debate," the letter reads.
AB 398 aims to keep the five-year cap and trade program running until 2030. The bill will also generate proceeds for building the bullet train from Los Angeles to San Francisco.
The California Legislature also voted Monday to approve AB 617, a law that will focus on reducing pollutants that contribute to community respiratory issues.