New moms get sweet treat as Redlands Community Hospital celebrates World Breastfeeding Week
2 min read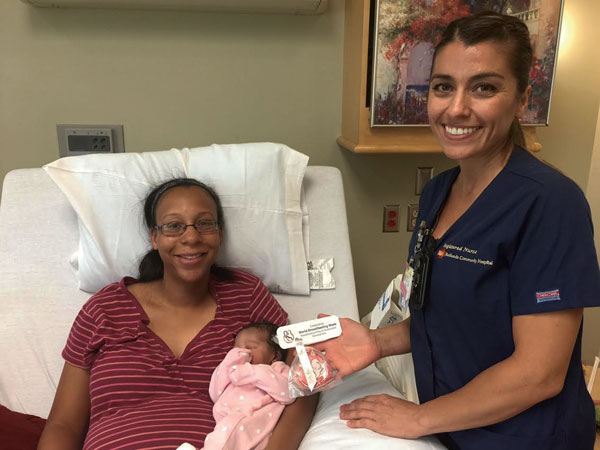 New moms received an extra ounce of sweetness with their bundle of joy at Redlands Community Hospital last week.
Hospital staff treated its labor and delivery patients to cupcakes in celebration of World Breastfeeding Week (Aug. 1-7), an event designed to bring awareness to the importance and benefits of breastfeeding.
Coordinated by the World Health Organization, UNICEF and the World Alliance for Breastfeeding Action, this year's campaign aims to encourage people to support breastfeeding mothers along with making communities more breastfeeding-friendly.
Redlands Community Hospital has been on board and "baby-friendly" since 2013 and supports its expectant and new mothers with a breastfeeding program and access to lactation consultants.
"It is our mission and passion to help each mother that desires to exclusively breastfeed be able to successfully breastfeed their infant. We are not only impacting this generation in a positive way but future generations…" said Edith Gonzales, RN, MSN, CNML, and the hospital's director of maternal child services, in a news release.
"…Breast milk is the ideal food for newborns and infants. It gives infants all the nutrients they need for healthy development. Beyond immediate benefits for children, breastfeeding contributes to a lifetime of good health. Research has shown that adolescents and adults who were breastfed as babies are less likely to be overweight or obese and less likely to have type II diabetes."
The World Health Organization recommends that babies are exclusively breastfed for the first six months of life, and continue for at least one year.
"Breast milk contains hormones and cells that fight germs; it helps protect infants from complications that include respiratory illness, ear infections, gastrointestinal disease, asthma, obesity and allergies. As an added bonus for mothers, breastfeeding is linked to lower rates of breast cancer and other illnesses, and aids in post-pregnancy weight loss. Nutritious complementary foods should then be added at six months of age while continuing to breastfeed for up to two years or beyond," according to the news release.
Classes at Redlands Community Hospital offers expectant and new mothers access to programs through its Maternal Child and Perinatal Services programs. Appointments are available for group, and individual one-on-one education.
To learn more about breastfeeding services and programs visit Redlands Community Hospital at 350 Terracina Blvd or www.redlandshospital.org.
For resources visit World Breastfeeding Week at www.worldbreastfeedingweek.org or the World Health Organization at www.who.int/topics/breastfeeding/en/.