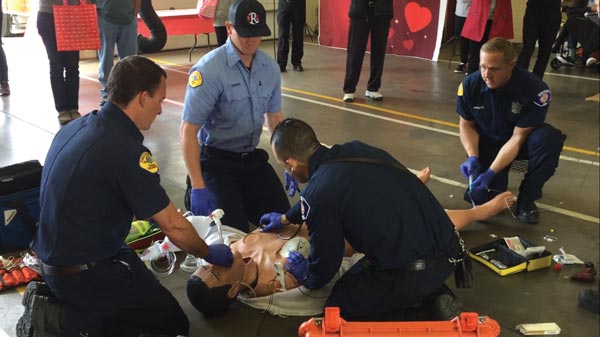 William Ten-year-old Jesse Mendez knows exactly what to do in an emergency, especially if someone is showing signs of a stroke.
"You 'Act FAST'," he said. "You look to see if their face is drooping, ask if they have numbness in their arm, listen to their speech if it's funny or can't talk and you call 9-1-1."

Jesse, now an honorary junior paramedic after learning how learned how to 'Act F.A.S.T' picked up the emergency responder tips at Super Safety Saturday Feb. 18 hosted by the Redlands Fire Department.
The free community program held at Station 261, offered residents of all ages an opportunity to see how first responders arrive to a medical emergency and what procedures are taken to save lives. Those in attendance were also offered the opportunity to learn hands only CPR and practice the life saving procedure.
"You could save a life," said Redlands Fire Marshal Penni Overstreet-Murphy. "It's great to see such a wonderful turnout and residents wanting to be involved in community safety and the wellness of others."
Other highlights from the safety program included safety presentations, learning the signs and symptoms of heart attacks and strokes, how automatic external defibrillators work and where to find one in the city, and a chance to win raffle prizes and drawings.