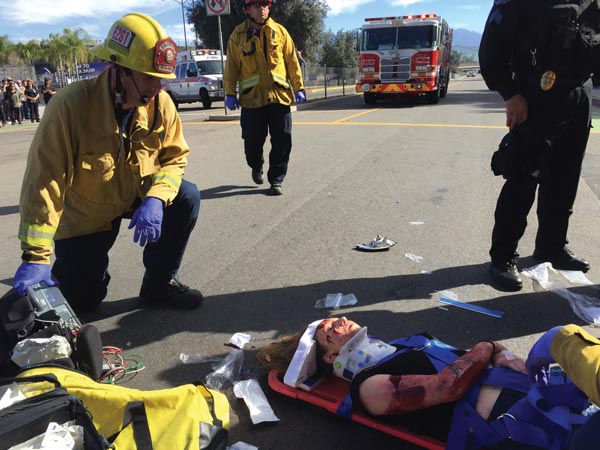 Hundreds of Redlands High School students gathered at the crosswalk in front of campus Feb. 16 following a head-on collision with pedestrians.
The scene was grim and grisly. A student pedestrian died at the scene and the passenger of the vehicle was flown by helicopter after suffering major spinal cord injuries. The driver walked away with only minor injuries.
All were victims of one teenager's decision to drink and drive under the influence.
Fortunately, it wasn't real, said Devyn Charles, 17, who portrayed the student driver as part of the California Highway Patrol's Every 15 Minutes program.
"You definitely see life differently after this," he said. "I never want to be in the back of a (police) car again."
"Every 15 Minutes" is an impactful educational event used to show students the dangers of drunk and distracted driving through impactful video clips and realistic accident simulations.
Students participate in activities over two-days which include a simulated traffic collision involving a drunken student driver and three other students acting as the victims of the car crash simulation. The program concludes the following day with a mock funeral complete with casket, remembrance speeches and flowers.
While some students may not see the impact of consequences during the simulated collision, it's the next day at the funeral that really drives the point home, said Kate Pearne, the school's principal.
"That's where the impact is," she said. "This (program) shows just how quickly things can change when the right decisions aren't made."
Pearne said Redlands High does not have any recently alcohol related incidents involving students.
Every 15 Minutes is made possible by a grant from the California Office of Traffic Safety, through the National Highway Traffic Safety Administration.
First responders from Redlands police and fire departments also participated in the program.