Rialto Unified School District Nutrition Services hosts USDA, CDE officials on visit
4 min read
USDA and CDE officials recently visited Rialto Unified School District to witness its award-winning nutrition programs in action. The district's dedication to student health and wellness was showcased through their innovative approach to combining nutrition and education, with a focus on holistic well-being. The visit highlighted the district's achievements in creating unique child nutrition services that bridge the cafeteria, classroom, and community, setting an inspiring example for schools nationwide.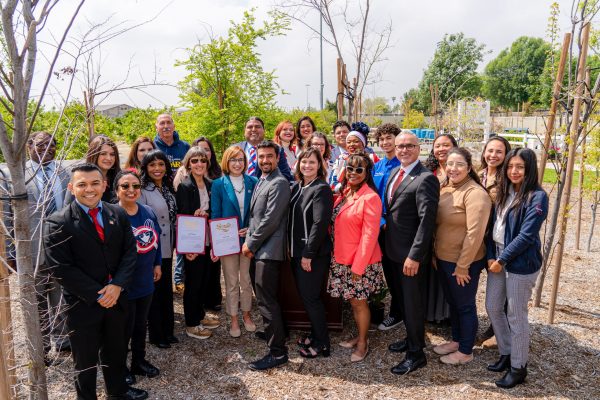 Rialto Unified School District is on the move for various academic success, but also for Child Nutrition!
Officials from the United States Department of Agriculture Food and Nutrition Service (USDA) and the California Department of Education (CDE) received a tour of the District's Nutrition Services programs on April 17. The tour began at 10:15 a.m. at the Central Kitchen and ended in the afternoon at the Communication/Media Services Podcast Studios.
Cindy Long, Administrator of the USDA Food and Nutrition Services, and Kim Frinzell, Nutrition Services Division Director of the CDE, traveled to Rialto and saw the District's award-winning Nutrition Services programs in action as they toured RUSD's Central Kitchen facilities, Rialto Middle School and Werner Elementary School.
RUSD Superintendent Dr. Cuauhtémoc Avila, along with the Superintendent's Cabinet greeted Long and Frinzell as they started the morning at the RUSD's Central Kitchen. Officials watched the daily operations of the RUSD's nutrition programs taking place as they toured the facility responsible for preparing and serving more than 40,000 meals to students daily, with 60% of those menus being created from scratch.
Both Long and Frinzell said they walked away impressed with the innovative and holistic approach taken from not only Nutrition Services but principals, teachers and parents at both Rialto Middle School and Werner Elementary School.
"From the bottom of my heart, what a moving and inspirational day today has been," Long said. "I'm here representing the U.S. Department of Agriculture. We are the agency that is responsible for all the child nutrition programs, and we spend a lot of time doing things like rules, regulations, and budgets. Coming to a place like Rialto and seeing what you are able to do with these programs, is just extraordinarily inspirational."
District highlighted its dedication to student health and nutrition and the District's award-winning nutrition and garden programs. The USDA's visit served as a celebration of Nutrition Services and the numerous accolades they have earned, including the 2018 "Great Grains" Award, the 2020 "Turnip the Beet" Silver Award, and the 2021 and 2022 "Turnip the Beet" Gold Awards.
The visit comes as part of the White House's continued advocacy for child nutrition and support for school meals, as evidenced by their recent allocation of $50 million in grants that will increase collaboration between schools, food producers, and suppliers.
"We were so excited to welcome Cindy Long and Kim Frinzell to visit RUSD to see how our unique Rialto Child Nutrition Services program has bridged the cafeteria, classroom, and community," stated Fausat Rahman-Davies, Lead Child Nutrition Agent. "We are hopeful that our model of interdependence is scalable for all of California so we can nurture every student's body, soul, and spirit."
From the Central Kitchen, officials visited the Outdoor Learning Lab at Rialto Middle School with students taking the lead and showing off their school garden. They also toured RMS kitchen facilities, and dining area, and were introduced to the kitchen staff before moving on to nearby Werner Elementary School, where they were joined by RUSD Board of Education President Stephanie E. Lewis and Board Member Edgar Montes.
Montes and Lewis stated they were thankful to show off the District's approach to combining nutrition and education.
"We are the bread basket of the young mind," Lewis said. "What Rialto has decided to do and continues to do is to put nutrition first. When you think of nutrition you think of the fuel for students to succeed. That's the brain fuel. That's what we are doing. We are putting high-octane, quality, USDA-grade food into the engines — the hearts, the minds — of our students."
With representatives from congressional, State, and regional levels, Nutrition Services and both schools were commended for their commitment to nutrition education.
Board Member Montes stated: "I want to express my gratitude and appreciation to every single person from Superintendent Dr. Avila all the way across our school sites and service areas for this program and similar programs that help our children really get the best out of their education. What better way to teach kids to grow food and then be able to eat the food that they grow? It goes a long way to educate our children."
While at Werner Elementary School officials were able to sample student-menu items in the school garden and participate in a farmer's market with students inside the school library.
The group wrapped up at Werner Elementary with a roundtable discussion that included RUSD families, staff, and administrators. The discussion covered the importance of nutrition for healthy children. Topics covered strategies and best practices in supporting child health at the local level. Finally, Long, Frinzell and Rahman-Davies sat down for an interview on the District "Bridge Podcast" to cap the day's events.
Frinzell ended, "This is what education is all about. Thank you for all that you do. I can't wait to go back to Sacramento and share all of your amazing work."