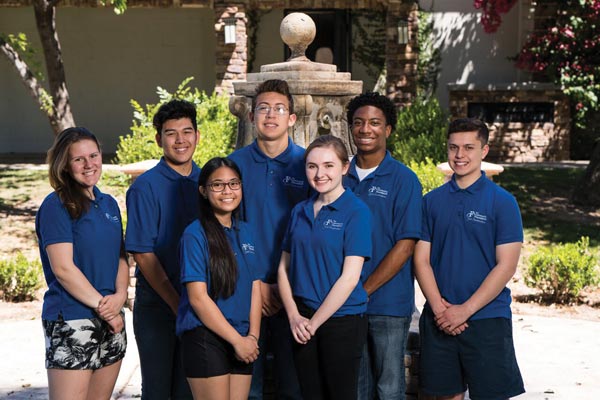 High school students from throughout San Bernardino and Riverside counties awarded $30,000 in grants to 15 local nonprofits thanks to The Community Foundation's Youth Grantmakers program.
Now in its ninth year, the program was launched to cultivate young philanthropists who will follow the learned traditions of giving and serving in their community.
The program recently celebrated the grant awarding ceremonies at Aquinas High School in San Bernardino and at the Foundation's Coachella Valley office. Representatives from 15 high schools were on hand to award the funds to the 2016-2017 recipients:
Cathedral City High School Girls Wrestling Team ($1,125), Christopher's Clubhouse ($1,755), Children's Discovery Museum of the Desert ($1,500), Smooth Transition, Inc. ($2,500), and Variety – the Children's Charity of the Desert ($2,000), Big Brothers Big Sisters of Inland Empire ($2,500), YouthHope Foundation ($2,000), Highlander Boxing Club ($2,500), Youth Action Project ($2,500) and Children's Fund ($1,000), Special Olympics Inland Empire ($2,500), Queen of Hearts Therapeutic Riding Center, Inc. ($2,500), Rising Star Business Academy ($1540), Riverside Police Officers' Association ($2,500) and Kamali'l Foster Family Agency ($960).
According to the organization, during the 2016-17 academic year, students across the two-county region strengthened their leadership skills as they participated in philanthropy. The students learned to read and analyze a grant application, respectfully debated the most critical needs while learning to listen to others' perspectives, and prioritized the many worthwhile requests.
Recent Cajon High School graduate and youth grantmaker Jonathan Rodgers, said in a news release that his peers today are "more involved in their communities than ever before."
"I will always miss this program, and I believe it to be a hidden gem in the city."
Since the program's inception, Youth Grantmakers have awarded $200,000 in grants to nonprofits, the Foundation said.
"The goal is teach young people about the tradition of philanthropy," said Celia Cudiamat, EVP of Grants and Programs at The Community Foundation. "We hope the end result is an ethic of service and lifelong involvement in their community."
To learn more about the program, visit www.thecommunityfoundation.net.