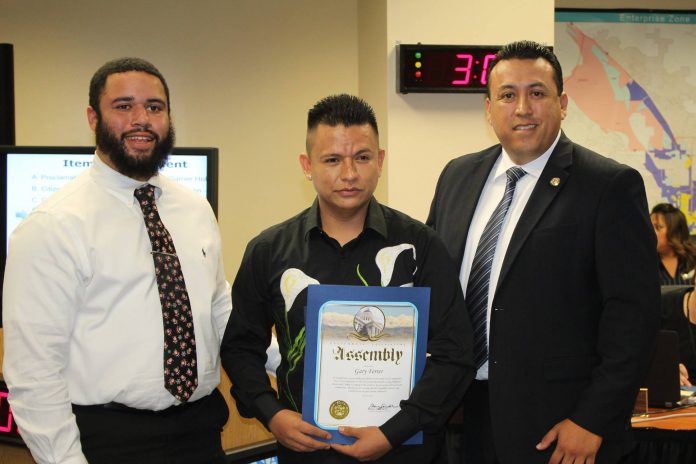 Baile Folklorico instructor Gary Ferrer was honored by the San Bernardino City Council last Wednesday for his commitment to teaching young children how to sway to the sound of Mexican folk music.
Ferrer expressed gratitude to the city for the honor.
"Receiving the recognition was a surprise," Ferrer said. "I don't think about rewards, I just teach because I love to dance and serve my community."
Ferrer, 28, teaches about 16 free folklorico and 40 Zumba classes per month at St. John's Episcopal Church, which is located at 1407 N. Arrowhead Avenue. The Mexican native does so without eyesight. Ferrer lost his vision last year after contracting fungal meningitis.
Despite his adversity, Ferrer said he refuses to stay at home–preferring to go out and help others.
"I don't think about my vision," Ferrer explained. "I just keep on moving forward. When you're busy, you forget about everything."
Ferrer and his 20 folklorico dancers have performed at schools, at public events, at the National Orange Show, and at Knotts Berry Farm. They are scheduled to perform at the Orange County Fair on August 2.
San Bernardino Fine Arts Commission Chairman Gil Botello believes Ferrer's classes are part of a grassroots movement that is helping divert young children from the dangerous streets of the central city.
"A group of unlikely heroes have become a beacon of hope," Botello said of Ferrer and his dancers. "These young dancers and their parents have said no to drugs, to teen pregnancy, and to street violence. Gary has taught us all that barriers and devastating events can be overcome by passion, commitment, and love for the arts and the community."
For Ferrer, working with children and their families is "bond building" experience that will create a long lasting impact.
"We've built a small family here," said Ferrer. "They're always excited and happy to be here. To me, that's what it's all about."