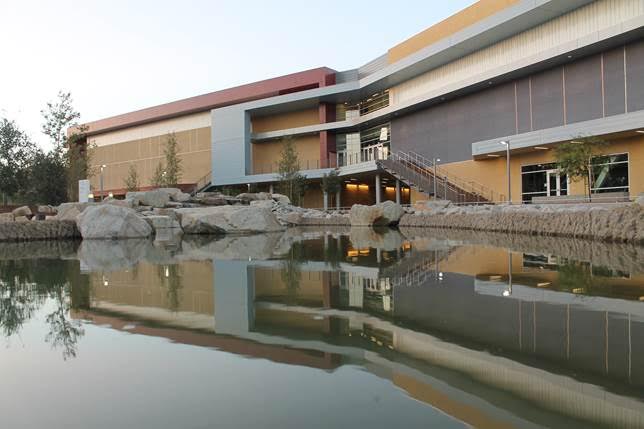 San Bernardino Valley College opened its new sports complex to students on their first day of classes Tuesday. The $69 million, 108,000 square-foot facility is now the biggest and tallest building on campus, according to college officials.
The complex has two gymnasiums–a large facility suited for basketball and a compact facility slated for Volleyball–along with a sports medicine facility, a multipurpose room, about a dozen business offices, a lecture hall, a fitness room, and weight room.
Outside the facility is a garden area, filled with benches, red clay pathways, oak woodland trees, and a pond. The complex was built mainly through the usage of Measure M bond funds, which voters passed in 2008.
"The new facility is a prominent feature on this campus," San Bernardino Community College District Chancellor Bruce Baron said in a written statement. "Bold and proud in its sheer magnitude and attractive architectural style, it fully accommodates our many athletic and kinesiology programs by providing the right type and size of spaces, classroom fixtures and features, technology, and equipment."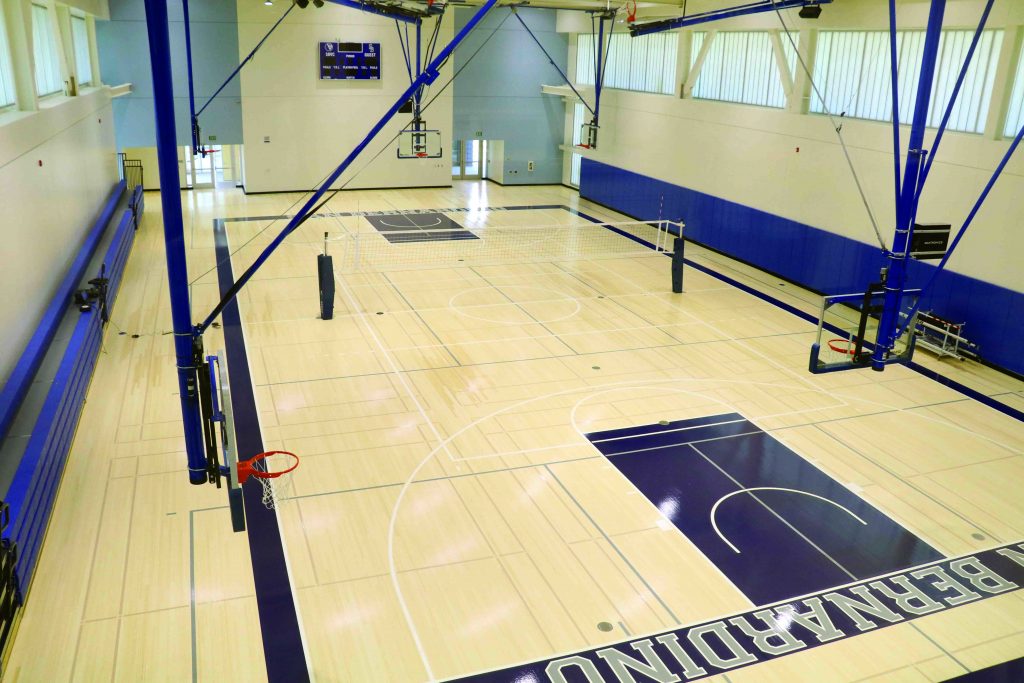 According to SBVC Athletic Director Dave Rubio, college officials began to discuss the possibility of constructing a new sports facility in 2000. Despite the arduous process in trying to built a sports complex, Rubio believes the facility wait has been worth it.
"I think the facility is amazing," said Rubio. "The more people that come in and use our facility, the better off the college and community [will] be."
SBVC Head Athletic Trainer Mike Sola explained for many years region athletes refrained from attending Valley College because of outdated facilities. Now he hopes future students will choose the campus over other local community colleges.
"It's a dream come true," Sola said. "A facility like this will allow us to give athletes better care. I'm happy for our students."
Freshmen Chidi Udengwu of Chino Hills said it only took one sighting of the facility to convince him that he should play basketball under Coach Quincy Brewer. "It's a nice, wide-open court. It should be a jampacked experience. This is similar to a Division 1 facility.
Track and Field athlete Santiago Castillo believes the new facility  "brings out the school more."
"I think it's a good structure," he said. "It gives it a university look. This is definitely a game changer."
The last of the Snyder Gymnasium and Women's Gymnasium is currently being demolished, while expansion of the Football Stadium and swimming pool is scheduled to be completed by early 2017.