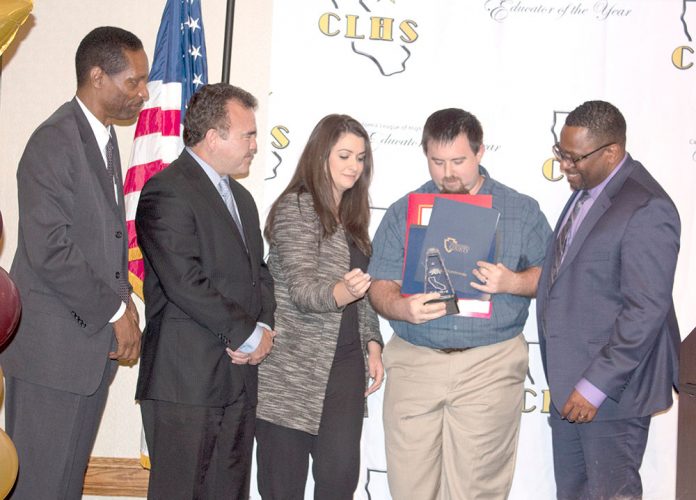 On Nov. 15, at the California League of High School's (CLHS) "Educator of the Year" Award Regional Ceremony, Aaron Thomas, AP math, honors and statistics teacher at Carter High School (and an alumnus of Rialto High School) was unanimously and impressively selected to advance to the semi-finals CLHS "Educator of the Year" ceremony in northern California. The 37-year-old classroom teacher was nominated by Carter High School Principal, Dr. Patricia Chavez, months prior.
"Mr. Thomas is an incredible math teacher and academic coach," stated Dr. Chavez. "He has done a phenomenal job at building our Scholar's Program from the ground up. Because of Mr. Thomas, our Scholar students will have more opportunity to a successful life after high school. Last night, Mr. Thomas earned and advanced to the CA League of High School Educator of the Year at the state level. This recognition is well deserved. He is a great example of the amazing educators we have in our District. I am very proud of him, our school, and our District!! Go Lions … let's take State!!"
Emphasizing the importance of empathy, compassion, and a sense of humor, Mr. Thomas won over the judges.
Mr. Thomas competed on stage with dozens nominees, from various school districts, including Beaumont, Chino Valley, Corona-Norco, and Hemet. Eisenhower High School teacher, Mrs. Suzanne Hidalgo, was also an honoree, along with several Riverside and San Bernardino Counties' teachers. Rialto Unified School District was the only school district on the evening's program that showcased two nominees.
"I am very shocked and humbled by this huge honor," said Mr. Thomas. "I honestly wasn't expecting this. I would like to thank the CLHS committee for choosing me. I would like to thank the other nominees for doing everything in their power to help students every day. I would like to thank my friends and colleagues for being there to share this honor with me, and I would like to thank my amazing wife, Monica. Without her, I wouldn't be the person I am today."
San Bernardino County Superintendent, Ted Alejandre, was the host for the CLHS Educator of the Year Awards, held at the Ontario Airport Hotel. The emcee for the evening was Victor Valley Union High School Superintendent, Dr. Ron Williams, who announced Mr. Thomas' name as the lone winner. There were more than 240 educators in attendance, including RUSD Board of Education Vice President, Edgar Montes, Clerk, Nancy G. O'Kelley and Member, Dina Walker, along with Mr. Thomas' wife, Monica Thomas, who is an Instructional Aide in the RUSD. Carter High School teachers, administration, and several district officials also attended to support.