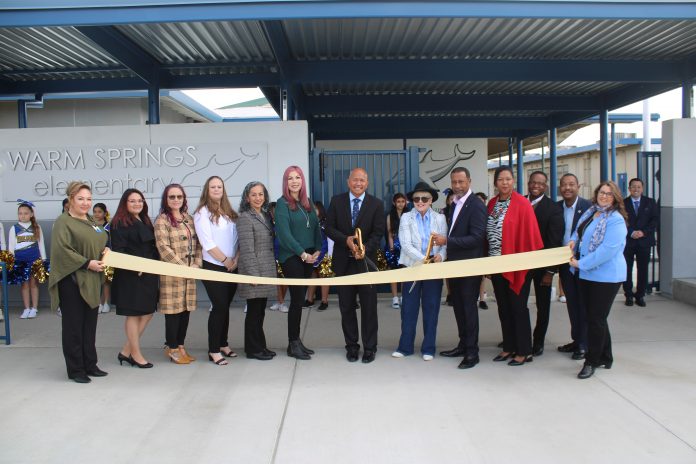 On Friday, January 13th, Warm Springs Elementary School hosted its Grand Opening and Ribbon Cutting Ceremony as part of the district's We Built This City Schools Tour.
Principal Houn Hib hosted the well-attended ceremony and shared the campus' new specs, like a single point of entry, buzz and intercom system at the front office, its state-of-the-art multi-purpose room where coding workshops are held, and a 3-D printer integrated into its Science, Technology, Engineering, and Math (STEM) programming.
"Our campus has burned down twice and withstood the flooding and a big earthquake over the years. But it was rebuilt each time, and that is a testament to the strength of our teachers, administrators, and the community. I'm so proud to see this idea come to fruition – we have delivered a space to our students where they can pursue their passion and something greater than themselves," said Hib.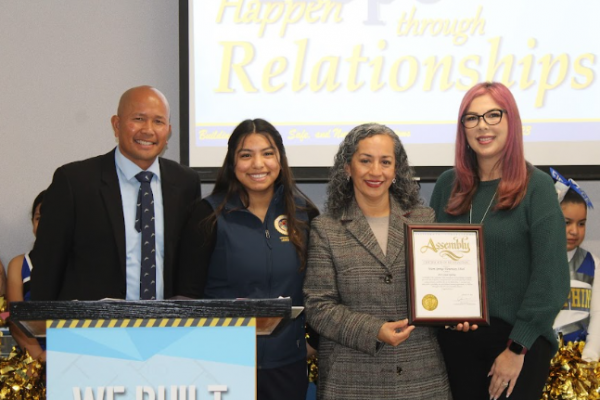 The Architect Mark Rem ensured that the campus was redesigned by repurposing many of its buildings, mitigating the amount of carbon exerted into the environment.
"We're not developing schools out of fear but hope and faith. It's been amazing the past few years developing and delivering this vision with our diverse team, some of which directly came from this community to bring innovative technology to this community; and like Councilwoman Kimberly Calvin stated 'it provides equity in education," Rem said.
The ceremony also featured teacher perspectives at the podium, many of which have been with the school for over two decades – when there was no warm water in the bathrooms or AC units in classrooms.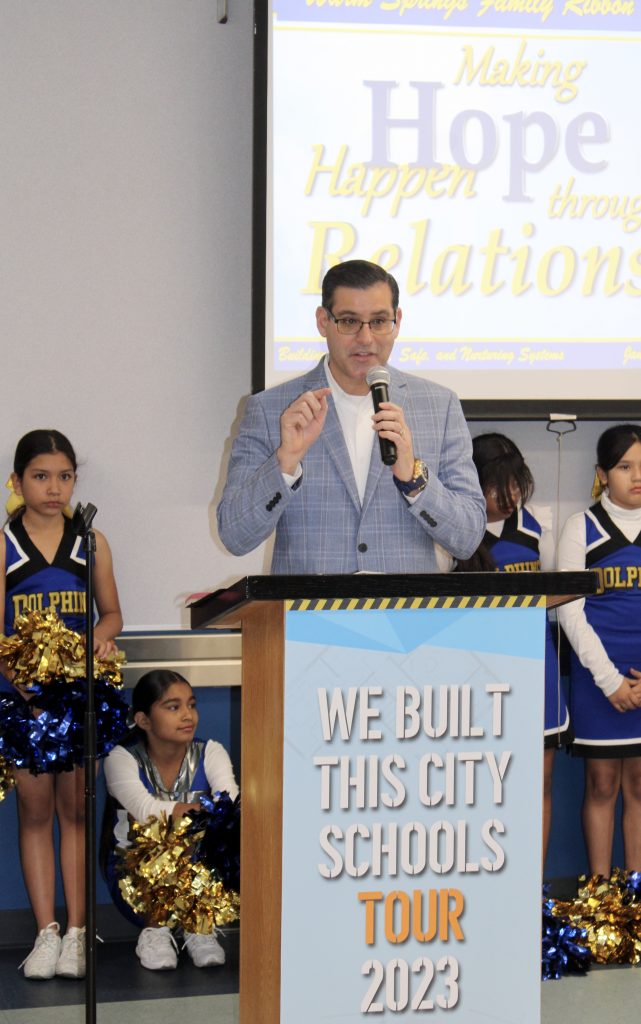 "I started teaching here in 1998, and when I would go to district training(s), teachers from other schools would gasp when I said I was from Warm Springs. So, I always thought I'd do my time here and transfer to a prettier campus. But I'm so glad I didn't because I learned that the teachers, administration, and community have made this campus so great. I said I was not going to get emotional, but our kids work so hard. Our students deserve to feel valued and learn on an aesthetically pleasing campus – they're worthy of all of this, just like the students on the north end," said 5th Grade Teacher and Cheer Coach Ms. Flores.
Special guests included San Bernardino Councilwoman Kimberly Calvin, Assemblymember James Ramos' Field Representative Daisy Ramos-Gomez, leadership from the San Bernardino City Unified School District and San Bernardino County Sheriff's Department.
Currently, there are over 500 students enrolled at Warm Springs Elementary, the oldest campus in the district.
According to U.S. News, 98 percent of the campus enrollment identifies as a minority, with 81 percent identifying as Hispanic/Latino, 9.8 percent identifying as Black or African American, 2 percent identifying as White, 3.8 percent identifying as Asian/Pacific Islander, and 3.4 percent identifying as two or more races.
To learn more about Warm Springs Elementary, visit warmsprings.sbcusd.com.