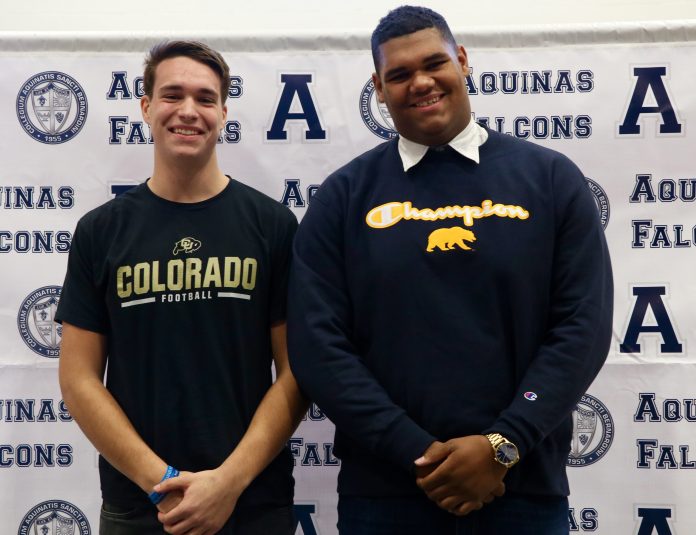 Aquinas High School football standouts Joshka Gustav and Jasper Friis signed letters of intent to play for PAC-12 universities during a small ceremony at the school's gymnasium Thursday.

Gustav, who played as linebacker and tight end for the Falcons, had 53 tackles on the year. He'll be putting on his pads for Colorado next year. Friis will be playing in the bay area for the Cal Berkeley Bears in 2018-19.
Gustav and Friis, both German nationals, played for the Falcons for two years and contributed to their team's CIF Southern Section Championship run this season, according to head coach Jordan Brusig.
"I couldn't be more proud of these two guys and the work they've put in," said Brusig. "I know it's not easy. Through their belief and conviction in what we do here, they are where they are today."
Gustav migrated to the U.S. in 2015 with his older brother Niklas–now featuring as a defensive lineman with Morningside College in Idaho. They set a goal of securing college scholarships to play football. Both now have accomplished their aim.
Joshka's father, Gerad, said he couldn't be any prouder of his sons' accomplishments.
"Now both of them are living their American dreams," he remarked.
Gustav thanked Brusig and the Aquinas coaching staff for helping him grow as an athlete and a student. He believes he is prepared for the challenge the University of Colorado will provide him.
"I'm very excited," said Gustav. "I've lifted a huge weight off my shoulders now that I signed with Colorado."
Friis expressed joy in sharing his scholarship signing with family, friends, and school staff.
"It's an amazing moment right now," said Friis. "Coach Brusig prepared us in a good way to be disciplined, not only in football but in life."