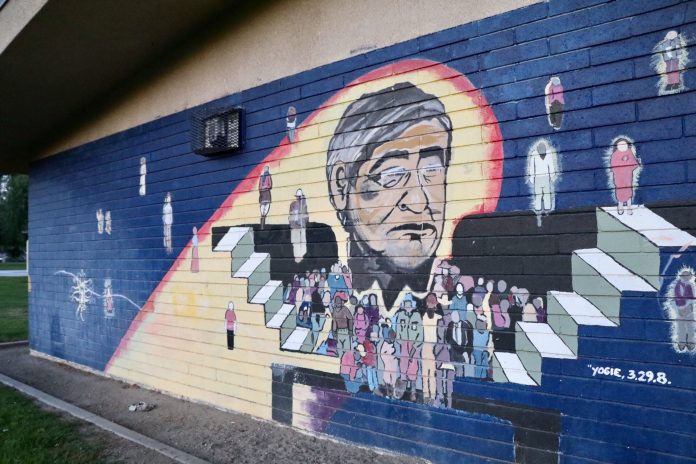 Cesar Chavez's advocacy and legacy are deeply rooted in the Inland Empire.
According to George Aguilar, the renowned labor organizer got his start in San Bernardino–working together with Cruz and Carmen Nevarez to help establish the Community Service Organization in the early 1950s.

A younger Aguilar would often spend time with Chavez, who visited his parents' La Esperanza Market in San Bernardino and home in Colton whenever he came to the region to conduct business.
The "calm, cool, and collective" Chavez was no saint, Aguilar explained, but resembled a divine figure.
"I've met a lot of politicians, probably the most famous I met was Al Gore," said Aguilar. "I would say Cesar had a special handshake. It was real warm. My soul felt good when he was around. We were around someone really special."
Beginning this week several events will be held to honor Chavez, who would have turned 90-years-old on March 31 if he were still alive.
Approximately 200 local city officials, community organizers, business owners, and residents are expected to attend the Chicano Latino Caucus' breakfast on April 1 at Cal State San Bernardino. Other events are scheduled across the region through early next week.
Born in Yuma, Arizona in 1927, Chavez was a Mexican-American farm worker, labor leader and civil rights activist that co-founded the National Farm Workers Association with Dolores Huerta in 1962.
Chavez is mostly known for his nonviolent approach to organizing and promoting labor and farm workers' rights. He passed away on April 23, 1993 in San Luis, Arizona at the age of 66.
Chavez not only influenced the lives of farmworkers, Aguilar explained, but also the lives of young people that aspired to become leaders and educators.
"He always encouraged me to get my education," Aguilar said. "He use to tell me, 'You're part of the new era of leadership.'"
Mary Valdemar, a classified employee at San Bernardino Valley College and community organizer affiliated with the Chicano Indigenous Community for Culturally Conscious Advocacy and Action (Ch.I.C.C.C.A.A.), believes Chavez's struggle for dignity is embodied through the actions of community organizers.
"Some of us haven't had to go through the struggles of our ancestors," Valdemar said. "But there are still many struggles today. The fight for dignity has not gone away. Chavez fought against the special interests of growers and local officials. Now we're fighting corporations that have been immune to accountability."
Jason Martinez, 22, believes the younger generation of social justice advocates are pushing Chavez's and Saul Alinsky's legacy of grassroots political organizing to protect immigrant and workers' rights, as well as speak out against environmental pollution and human exploitation.
"The struggle in the fields was an intersectional struggle," Martinez said. "This wasn't just a Chicano issue, but also a Filipino and the struggles of poor whites. Chavez advocated for the rights of all people. That's what many of us fight for–dignity for all."
Chavez's self-sacrifice–exemplified by his hunger strikes–was admirable, Valdemar explained. However, it also led to Chavez's poor health and eventual death. She believes it  provides young organizers a valuable lesson.
"We need to sacrifice," Valdemar said. "But we also need to sustain each other and sustain ourselves to continue the movement for generations to come."