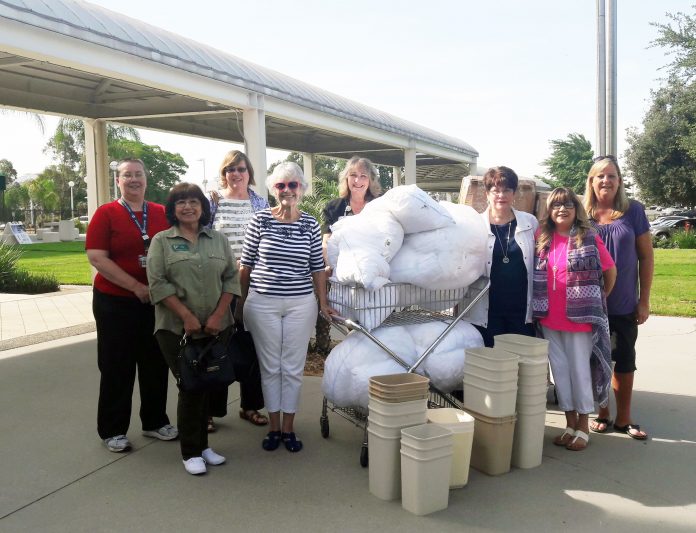 The Colton Woman's Club (CWC) has started a new working relationship with the Volunteer Services Department of the Arrowhead Regional Medical Center (ARMC) at 400 North Pepper in Colton. Hoping to help fill some of the needs for the ARMC's patients and outreach to those in need in the community, the CWC has begun reaching out to local businesses for help in getting the things most in demand for the program.
On Tuesday, June 11 members from the Colton Woman's Club met at ARMC to donate items given to them by Taylor Besemer, Sales Manager at the Holiday Inn Express at 2830 S. Iowa Avenue in Colton.  When Besemer heard about the needs of the hospital, he said the timing couldn't have been better, as the hotel was transitioning to an eco-friendly program for toiletries.  He had quite a few items he could help with, donating approximately 300 toiletry items such as shampoo, conditioner, lotion and bar soaps.   

The Holiday Inn Express also met the need for sheets, pillowcases and pillows while throwing in about 50 trash receptacles to boot.   The Colton Woman's Club is honored to be a part of the donation process and wants to express their gratitude for the generosity of the Holiday Inn Express.   
If your business would like to consider a donation towards the project, you can see a list of needed items for the ARMC Volunteer Services Department on the CWC Facebook page, and you can directly contact them at 909-580-6340.  You can also contact the Colton Woman's Club at 909-825-0797 or message them through their Facebook page.