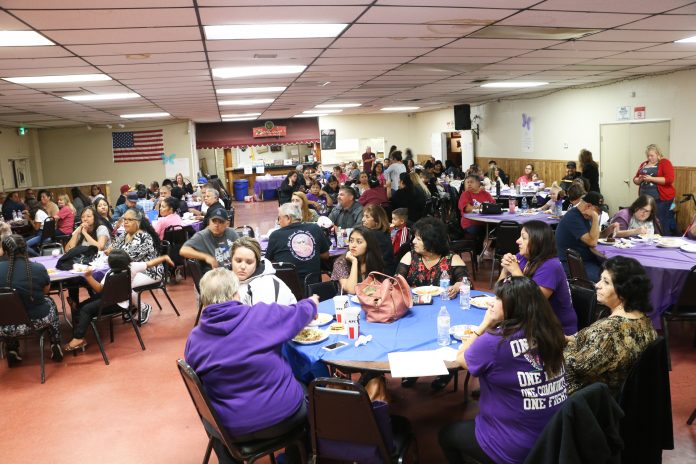 In a sea of purple and delicious food was the community of Colton and Grand Terrace coming together for the 15th anniversary of Relay for Life for the American Cancer Society in Colton. Hosted at the Veterans of Foreign Wars (VFW) Post 8737, the event was open to the public allowing members of the community to enjoy a potluck, comaraderie, and entertainment.
"I was a part of the original group that started Relay for life in the city of Colton, It was a challenge at first, but we've grown so much," said Darlene Duron, Experience Lead and breast cancer survivor. "We started at a small baseball diamond in Chavez Park to the event you see here today, it shows home much we've evolved."
Attendees enjoyed performances, organized by Relay Entertainment Representative Paul Rasso, by the musical duo Rich Harmony, Solo artist Pepe Reyna and DJ CX2. The music reflected the energy of the room, which was hopeful and joyous. Teams for the upcoming Relay for Life proudly declared their presence at the start of the meeting.
"Cancer doesn't discriminate. From babies to animals it will affect us, it just hits close to home," said Marla Robledo, Relay for Life participant. "All these people here have been touched, we know each other's struggles which have made us a big family,"
The group also encourages people who haven't been affected by cancer personally to join the event as Stephanie Granado-Smith, Relay for Life People Leader, spoke of her experience of initially getting started due to her job participating in it and had not at the time been affected by cancer in her family or personally.
While walking during the event she ran into a young man who was walking for his mother who had passed away from cancer. It inspired her to become involved in the organization, which she has been a part of since 2007, to help support those who have lost loved ones.
The organization fundraises to find a cure for cancer but also to provide resources to cancer patients and their families. From providing wigs, lodging during long hospital visits, funding for caregivers and so much more.
"There's a lot of people who are affected by cancer and they may not realize there are many resources available to them," said Paul Luna, Mission Lead. "This event allows us to help bring awareness to those resources and provide help to those who need healing."
The Colton and Grand Terrace Relay for Life will be hosted on April 27th and 28th at Colton High School located in Colton. Even though the main Relay for Life event will be hosted in April, multiple upcoming events can help the community get involved, such as the American Cancer Society Bark for Life event, or the Nightmare Before Christmas Hose event that will be hosted by Relay for Life team "Save the Tatas."
Relay for life of Colton and Grand Terrace will be hosting meetings throughout the year open to the public, their next meeting will be on Nov. 12th. For more information visit their website www.relayforlife.org/coltonca.