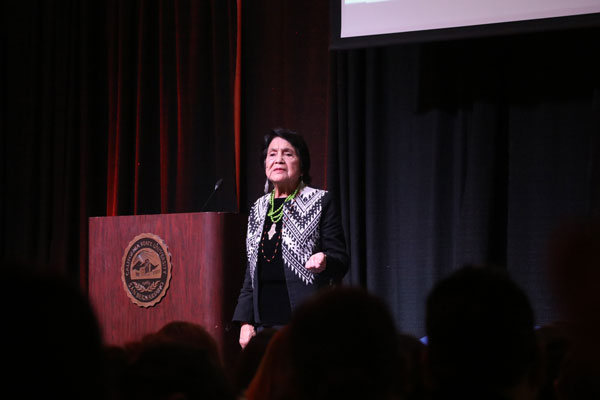 Civil rights and labor leader Dolores Huerta's address to Cal State San Bernardino students last Wednesday focused on what she believes will be a solution to many of the nation's woes.
Huerta, 87, said standing up to corporations through an economic revolution will prevent the middle and working class from suffering further setbacks.

The United Farm Workers leader aimed a lot of her criticism towards President Donald Trump, who she accused of trying to devalue the economic and social struggles of ethnic minorities through policies.
"As an organizer, I see this as a great opportunity," Huerta said about the nation's state of affairs. "People will finally realize we've got to stop it."
"There is a way that we could end a lot of the issues that are happening in our country right now," Huerta told the crowd inside the Santos Manuel Student Union. "And we can start right here in the university. We have the structure, but we need to change the content."
Students were also able to ask questions regarding Dolores Huerta's experiences and struggles.