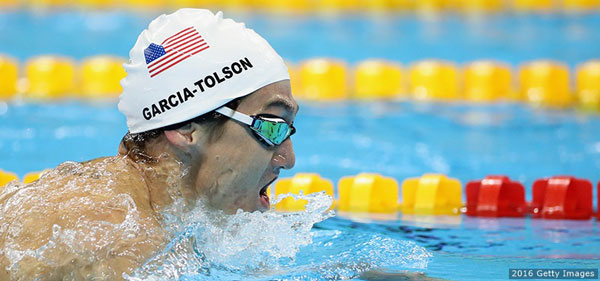 Two of the nation's most recognized swimmers have returned from the 2016 Rio de Janeiro Paralympic games with more medals to their already impressive count. Bloomington High School graduate Rudy Garcia-Tolson set a new American record by winning the Silver Medal in the 200-meter Individual Medley. He also set a new American record in the 100m breast stroke.
USA teammate Jessica Long earned her 13th Paralympic gold medal by capturing the women's 200-meter IM. Like Garcia-Tolson, Long is well known locally due to her record setting performances at two California Classic Tournaments held at the Crafton Hills College Aquatics Center. Long, who lives in Baltimore, set a world record last fall in the 1500m at Crafton's Olympic-size pool. Long won a total of six medals in Rio and now owns 23 Paralympic medals overall making her the second most decorated Paralympian in U.S. history. The first Paralympics were held in Rome in 1960.

Garcia-Tolson earned his fifth overall Paralympic medal this year in Rio after previously winning gold and setting world records in games held in Athens and Beijing. He won Silver at the 2012 London games and added a bronze at Beijing. Garcia-Tolson and Long are the higher profiled Paralympic athletes and are credited with helping elevate their discipline. Garcia-Tolson feels that both the Olympics and Paralympics will soon eventually commence at the same time. Garcia-Tolson, who had 15 surgeries before he was 5, considers the USA lagging behind the rest of the world in its treatment of Paralympic athletes.
Arguably considered the best overall Paralympic athlete, Garcia-Tolson was the first above the knee double amputee to finish an Ironman competition. To be an official finisher an athlete must complete a 2.4 mile swim, 112-mile bike ride, and a full 26.2 mile marathon in succession within 17 hours. Garcia-Tolson came in at 16 hours at the 2009 Arizona Ironman.
Garcia-Tolson, who celebrated his 28th birthday in Rio, is the spokesperson for the Challenged Athletes Foundation. He worked for 15 years with the late Robin Williams through their Braveheart organization. He will appear Nov. 16 on a CBS special 25th Anniversary, "Courage in Sports" episode.