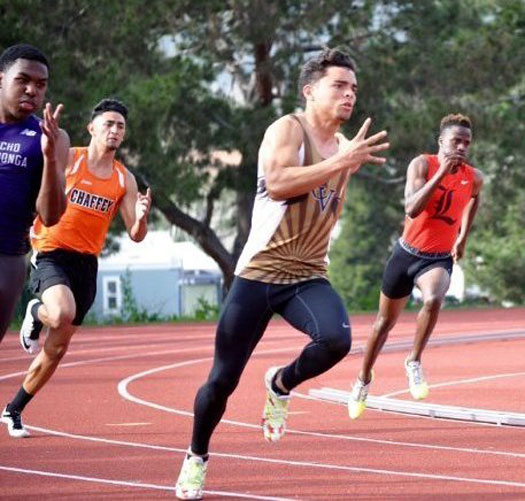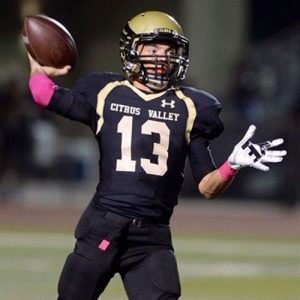 Chris Shiley says it's easy to overlook a 5-foot-9 quarterback who weighs 160 pounds. What Shiley lacked in height, he made up for in stature after he finally won the starting quarterback position at Citrus Valley High School five game into his junior season. In his first start in that 2014 season Shiley posted the most remarkable play in the school's nine-year history. With six seconds left in the game against crosstown rival Redlands, Shiley took the snap and raced 85 yards, crossing the goal line as the gun sounded to end the game and a 34-28 win.
"It was our first year in the Citrus Belt League and we went into the game with Redlands at 0-5. Citrus Valley had been playing in the Mountain Valley League and there were no teams in that league as big, strong, and fast like Redlands," recalled Shiley. "Yes. I would have picked Redlands to win, too. I remember coach (Pete Smolin) calling our last time out and asking if we should just take a knee to keep from injury. We agreed to go for it. He drew up a running play for me. There were so many people screaming and hollering, we couldn't hear anything in the huddle. All I remember was crossing the goal line and thousands of fans running onto the field. By far it was the highlight of my high school career."
Shiley had a lot of highlights to pick from. He was the school's Ken Hubbs Award nominee. He holds the CVH track records in six categories. Was first-team All-CBL and two-time team MVP in football and track. Was homecoming king senior year. Shiley said he had some offers to run track or possibly play football at Portland State, Idaho State, or D-III Luther College (Iowa).
For now, Shiley decided to run track at Riverside Community College for coach Jim McCarron. He moved into a dorm style apartment and will get his general ed classes out of the way and then weigh his options. "It was a tough decision especially after my break out senior year. For right now, I decided track was the best decision." Shiley said no one from RCC's football program has approached him. In a phone interview, Shiley said he realized there are few opportunities for smaller quarterbacks. With his blazing speed, he thinks a try at another position could work in the future. Shiley leaves his long term career goals open as well. "I'm not sure, maybe sports science, nutrition, or law enforcement."
In his bio prepared by CVH athletic director Boyd Lium, Shiley ranks high in community service skills as well. He agreed to be a part of the Read Across America program, whereby high school students travel to elementary schools and read to kids grades 1-4. "The kids got excited when I wore my football jersey into their rooms. We read Dr. Seuss stories to them and listened to their crazy little questions. I remember it was cool when the big boys came to visit and I wanted to do the same."
Shiley also was one of 25 volunteers picked to council other students and teachers at CVH's Synergy event. "I met some cool people through the all day event. Basically, it taught me to be a good listener. I heard some unbelievably difficult stories that students and teachers were going through. Some were getting bullied because of their looks and what they wore. It showed me how people are judged by certain standards. It gave me a new perspective and it gave me some new friends."