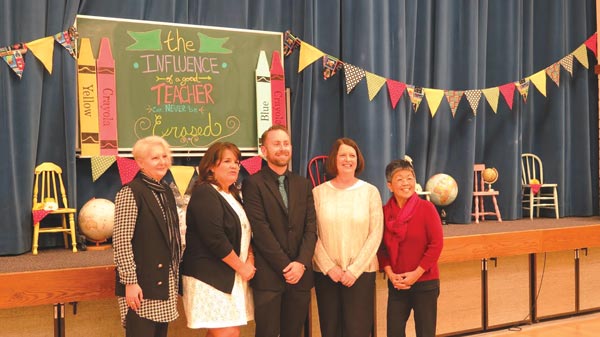 Five teachers from the Redlands Unified School District were honored for their dedication, hard work and outstanding contribution to education during the annual Teachers of Excellence Program recently.
The program was presented Feb. 23 by the The Church of Jesus Christ of Latter-day Saints and spotlights educators for countless efforts in the classroom. Each teacher was presented with certificates of achievement and a gift bag of tools for use in the classroom.

Among the honorees this year are:
Jeff Doolittle who has taught transitional kindergarten for the last four years at Victoria Elementary School. Jeff loves these young students and his goal is to make the first school impression of these students a positive one. He also a golf coach at Citrus Valley High School where he donates his time after a full day teaching. Jeff says "My first love is for the younger children, they fit my personality!"
Gigi Garcia who has been teaching 36 years, is currently at Crafton Elementary School where she has been for the last 20 years. She has taught every grade from kindergarten to fifth. She also is a Home and Hospital tutor for students too ill to attend classes. Her philosophy is that education is not the filling of a pan but the lighting of a fire.
Juliet Roth has taught at Kingsbury Elementary for the past 19 years. Juliet wanted others to know that she teaches each class with all her heart and takes each student where they are to get them as far as they can go. She plans her classes but is always ready for the changes needed to meet the needs of each student.
Adriana Standard has been teaching social studies at Beattie Middle School for 13 years and also takes students on travel trips world wide. She founded a homework club at Beattie and has been recognized as an outstanding teacher at her school. Her favorite saying to students is " Don't forget to be awesome!"
Tonia Vento teaches kindergarten at Mariposa elementary where she has been for the last 27 years. Her classroom is a visual experience of art. bright colors, teaching aids, posters, colorful rugs, and books. She uses movement and singing to help her students retain what they learn and her philosophy is "Always keep learning!" Tonia says her most memorable times are her yearly plays.