Corded headbands made of raffia, bird songs set to the percussion of gourd rattles and animal hooves, basketry and pottery are just a few aspects of Native American culture presented to third- and fourth-graders during the 18th annual California Indian Cultural Awareness Conference Sept. 18 – 22 at Cal State San Bernardino.
The weeklong program was designed to provide students an accurate depiction of the culture and traditions of California's first people, presented by the San Manuel Band of Mission Indians, Cal State San Bernardino, and San Bernardino City Unified School District.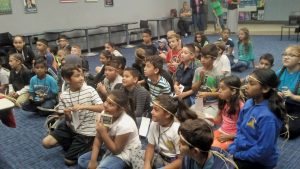 Over 1,500 students from throughout the Inland Empire participated in the conference where they learned firsthand from tribal members and elders about Native American traditions including basketry, plants, music, language and history including Native American accounts of the mission period of the state's history.
James Ramos, director of the California Indian Cultural Awareness Conference and San Bernardino County 3rd District Supervisor led a seminar on traditional Bird Songs, correcting the misconception that Native Californians used drums and hunted buffalo, the latter of which is foreign to the area.
Rather, the region's Serrano people used animal hooves of game animals and gourd rattles, the Me-wuk Tribe in Central California used clapper sticks, and hunted the bighorn sheep.
"We're here to break some of the misconceptions that people have, such as all Indians use drums when we actually use flutes and gourd rattles," Ramos addressed a Kelley Elementary 4th grade class on Friday. "We didn't hunt buffalo, that's a misidea [sic], it was the bighorn sheep that was hunted." Ramos further explained that native songs were sang before the hunt, and today they are sung to revere and thank the bighorn sheep for feeding the people and helping them survive.
"Our young people should have more than 'a simple scratch the surface' textbook knowledge about the indigenous people in North America; their trials, tribulations, and their rich history of survival speaks volumes," said Rialto Unified School District Communications Director Syeda Jafri. "Our District was extremely proud that our students were given the opportunity to participate. From the feedback, it appeared that the students and staff enjoyed it, immensely."
The conference culminated with the celebration of Native American Day Friday evening with tribes from across the region converging on the campus, with hundreds of community members in attendance.
"This is an opportunity to educate the community about who we truly are in the area and to give factual accounts of the sights and sounds of the California Native Americans," said Ramos. "There's a misconception that our culture is imbedded in the past when it is very much alive today."
---
Join our newsletter for weekly wrap-ups of our community coverage, exclusive advertising opportunities and local business specials!