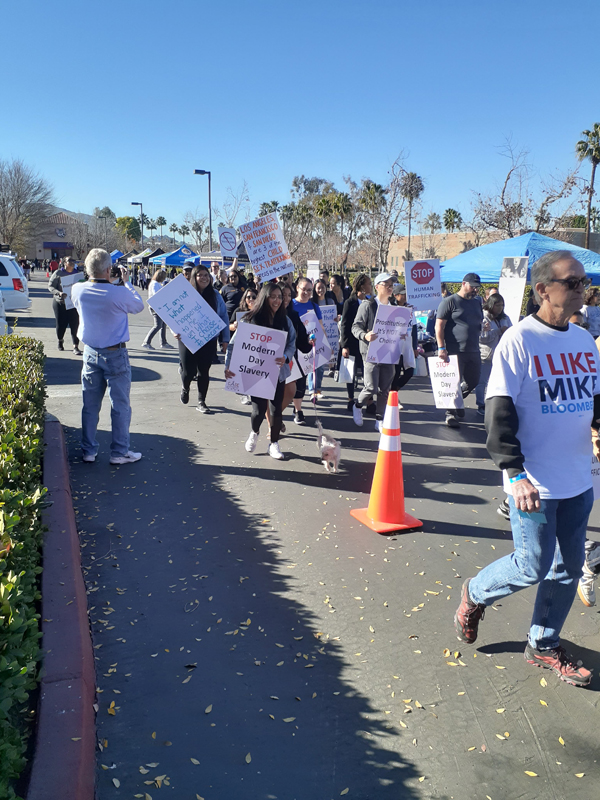 The San Bernardino County Coalition Against Sexual Exploitation (CASE) held its 10th Annual Human Trafficking Awareness Walk on Saturday morning, Jan. 25 at the Children's Network office on Hospitality Lane where over 200 people participated in marked solidarity.
The purpose of the event is to raise awareness about this sordid modern day slavery that is occurring in our communities. The average age a child in the U.S. enters the commercial sex industry is 12.
"Human trafficking and sexual exploitation of children are often thought of as only occurring in foreign countries, but it happens here and we're all responsible for educating ourselves and others about the realities of trafficking in our own neighborhoods and communities," said CASE Coordinator, Angel Magallanes. "Commercial sexual exploitation affects children in all parts of our county– all children are vulnerable."
Two speakers from Los Angeles County shared their personal experiences: Sylvia Miller, whose daughter fell victim to sexual human trafficking, and Angela, a victim of labor trafficking.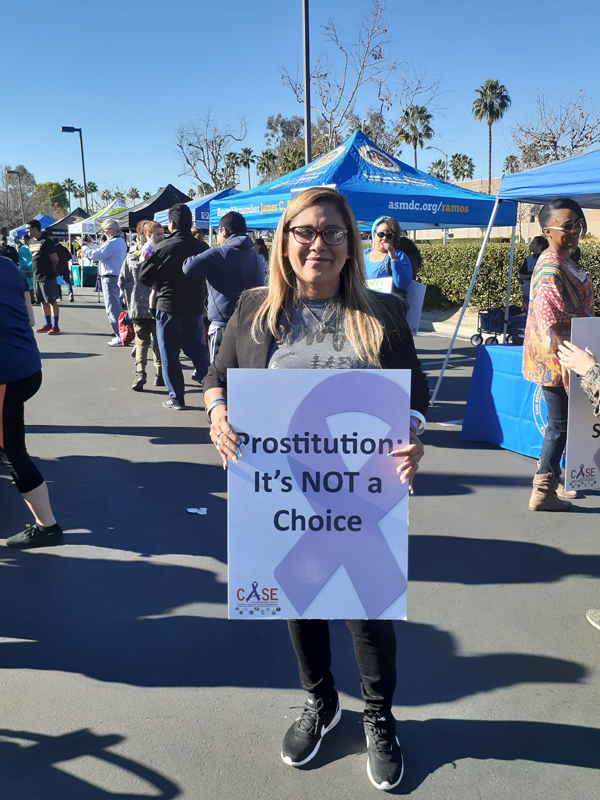 "You have to be aware and look for signs," said Sylvia, whose daughter, 14 at the time, started making new and older friends at school. "As a parent you feel ashamed, scared, angry and alone."
Her daughter became caught up in a cycle of drugs, prostitution and running away for two years before she returned home permanently and finally severed ties with her 18-year-old pimp by testifying against him – he was sentenced to 25 years.
"Girls want to hear that their mom is looking for them, that they are loved. Love them for who they are," Sylvia urged the assembled crowd. "Stand up as a community and be that voice for your children."
Angela, a native of the Philippines, was lured into labor trafficking with the promise of opportunity in the U.S. She came through legal channels and was met at the airport by a woman who informed her she will be working off her debt over the next ten years at her room and board facility for the elderly, and they would live like a family.
Angela felt lucky at the outset, but that quickly dissipated when she was forced to work 18 hours a day, seven days a week, sleeping wherever she could find a spot and eating table scraps. It wasn't until a neighbor approached her and handed her his number that she would eventually escape, two years later, when she finally summoned the courage to reach out to him. The FBI apprehended her captor, who was sentenced to 4 years.
"There isn't much humanity for us labor trafficking victims. Be vigilant, be aware, and be nice," Angela advised. "Plant a seed that someone cares and it will have a lasting impact."
The San Bernardino County Coalition Against Sexual Exploitation formed in 2009 to address commercial sexual exploitation of children in the county. It's a collaborative effort among child-serving county departments, service agencies and community members. Quarterly CASE outreach & education meetings are the second Tuesday of the month. For locations or more information, contact Angel Magallanes at (909) 383-9677 or email her at angel.magallanes@hss.sbcounty.gov.