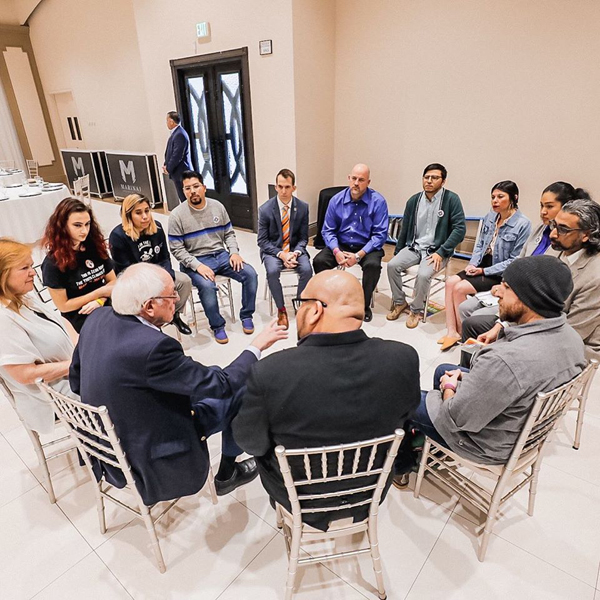 By Darrell Peeden, Vice President of the Moreno Valley Unified School District Board of Education, and Daniel Peeden, the Southern-Vice Chair of the Children's Caucus of the California Democratic Party and a city of Rialto Commissioner.
The democratic primary is at our doorstep, and only two Democratic presidential candidates recognize how important voters in the Inland Empire are to winning the democratic nomination and the presidency. There are well over 1 million eligible voters in the I.E., which is enough to make a considerable impact in this election – an election that will see record breaking voter turnout.
It's great to see presidential candidates come to the Inland Empire. However, it's much better for the I.E. when these candidates actually take the time to sit down and have personal meetings with local leaders and community activists to discuss the issues that our workers and community are facing.
On December 20th, I sat down with Democratic presidential candidate Senator Bernie Sanders right before his campaign rally in Moreno Valley. Sitting directly across from Bernie, we discussed the major issues impacting our community: poverty, worker's rights, air quality, economic injustice and campaign finance reform. Profiteers buying elections is an epidemic that has plagued the I.E., and Bernie is no stranger to the fight we're facing. As he heard our stories, he shared that he's been fighting for communities like ours for a lifetime – which is no secret.
Moreno Valley is a textbook example of a local government and community overrun by corporate bigwigs looking to line their pockets at the expense of the people. All over America, corrupt special interests are buying city councils, school boards, water boards – any and every election they can. And it's not just Moreno Valley. Rialto, San Bernardino, Fontana, Ontario, Perris and countless others are facing economical and environmental destruction at the hands of warehouse developers and other corrupt actors who have bought their way into local politics.
Here in our community, we have a corporation and profiteer who, during one election, spent more money per vote than any other political race in the nation. They're rigging the system to their benefit and pushing our community into poverty. They call this an investment.
I call it exploitation.
We have to get corrupt corporate money out of politics. Our communities should not be sold to the highest bidder. Corruption is a poison that infects the air we breathe, the roads we travel, the schools our children attend and our neighbor's ability to lift their family out of poverty. Our quality of life is not for sale, and our health and happiness should never be on the negotiating table.
In both major political parties, we've seen a parade of candidates who change their stances on key issues depending on which donors are in the room. We don't need another president who is beholden to millionaires and billionaires, corporations or corrupt industries (looking at you, warehouse developers.)
Now is the time for a leader who has the courage to bring morals back into the White House and American policy. This is the time for a leader who knows the strength of this country comes from individuals and not from super PACs or billionaires. For years, establishment politicians have fought to maintain the status quo and have destroyed our democracy in the process. This is our opportunity to shake things up and put a real agent of change in the White House.
As dedicated public servants and lifelong residents of the Inland Empire, my brother and I are invested in working to ensure our region continues to move towards justice. With consideration to the well-being of our families, friends and communities as a whole, we are endorsing Bernie Sanders for President of the United States of America.
Disclaimer: The views and opinions expressed in this article are those of the authors and do not necessarily reflect the official policy or position of any agency or organization.