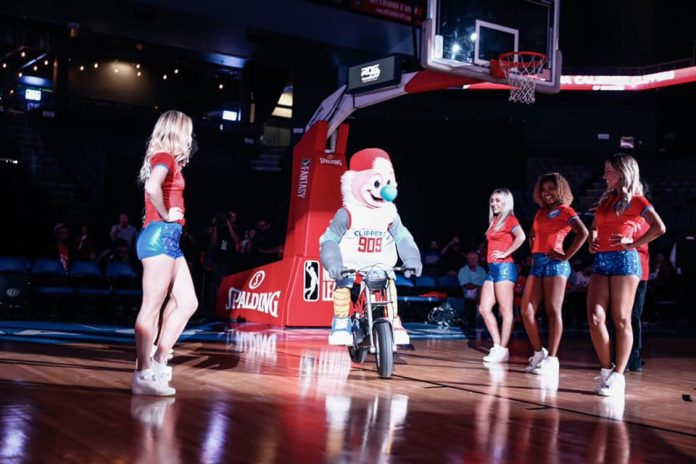 This past Sunday the G-League Agua Caliente Clippers hosted their opening game against the Oklahoma City Blue. It was a lot of fun and not just basketball!
The festivities started right as you walked through the door as they were giving away free, limited edition opening night shirts for the first 1,500 fans in the arena. These shirts were very nice and made a sea of red for the game as fans wore them right away.  A great intro video kicked the game off.
Next, the classic shooting challenge for one fan was given after the end of the 1st quarter. If they made three free throws and a 3-point shot they could win ten thousand dollars!  Sadly, this time the contestant failed.  But someone will definitely achieve that 10K as the season goes on!
Half time had a BIG surprise in store that no one saw coming. The Clippers announced their new mascot KC (short for Kid Condor) who is the little brother of the NBA Clippers mascot Chuck.  The rest of the game featured KC "learning" from his big brother!  We saw KC pull out some dance moves, and a trampoline dunk, which earned everyone a free KC hat when they exited the game!  This plus a performance from the Clippers Spirit Dance team made for an entertaining half time!
The 2nd half was all basketball. The Clippers stayed in it until the end, but the Oklahoma City Blue proved to be just a bit better down the stretch. Overall, the Agua Caliente Clippers may have lost the game, but the night was for sure a win!
If you are looking to watch some basketball that will be entertaining to the whole family – an Agua Caliente Clippers game is for you!
I give attending an Agua Caliente Clippers game 5 out of 5 baskets!