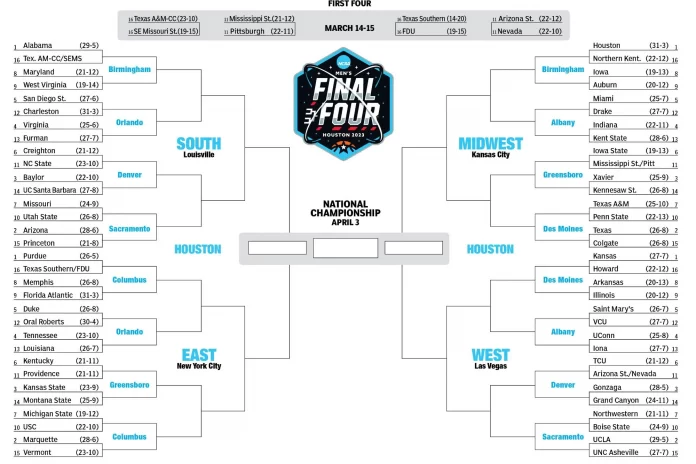 The NCAA basketball championship bracket has been revealed and the basketball world is ready for a weekend full of madness, as the journey to the NCAA title begins. Looking for an upset to pick on your bracket or want to find Cinderella before the ball begins? Look no further, here are the top upset matchups to look out for in the round of 64.
South Region:
9 West Virginia over 8 Maryland: Many may say a 9 over 8 isn't an upset but I do. Bob Huggins has led his team through a tough conference so don't be too surprised if West Virginia moves on.
12 Charleston over 5 San Diego State: High seed mid majors are always subject to upset but when you add in an elite 12 seed that they're facing, the upset watch is on high alert. Charleston has elite depth and that could carry them to a huge win over SDSU
10 Utah State over 7 Mizzou: This game has a very good chance of ending in the high 80's or 90's. A shootout certainly benefits the team on the upset hunt, so Utah State should look forward to this matchup
Midwest Region:
9 Auburn over 8 Iowa: Auburn has competed with the best of the best in the SEC, including the tournaments #1 overall seed Alabama. Expect them to advance here.
10 Penn State over 7 Texas A&M: There's nothing scarier than a red hot team going into March, which is what Penn State is. Texas A&M probably should be a higher seed, but now they're stuck with this matchup and will be on upset watch
15 Colgate over 2 Texas: This could be this tournaments ultimate bracket buster. Colgate can simply explode offensively and in a 1 game setting like this, it gives them a great chance to shock the college basketball world.
West Region:
13 Iona over 4 UConn: Every year Iona is popular upset pick and this year is no different. They ran away with their conference title and face a UConn team not playing at its peak going into the tournament.
East Region:
12 Oral Roberts over 5 Duke: If you haven't heard of Max Abmas yet, get ready to. He led Oral Roberts on a Cinderella run 2 years ago and will look to do it again. Don't get me wrong, Duke is playing some of its best basketball, but a first year coach combined with an elite offensive weapon on the opposite end could spell disaster
10 USC over 7 Michigan State: Two teams with a bit of a rollercoaster ride of a season will meet in this 7-10 matchup. USC's offense is led by Boogie Ellis and, if he scores 25 or more, expect USC to run away with this game. This matchup will be one of runs and whatever team ends hot will likely prevail.
There are some of your upsets to watch for in round 1. The greatest weekend in college sports is upon us, so get ready for pure madness.