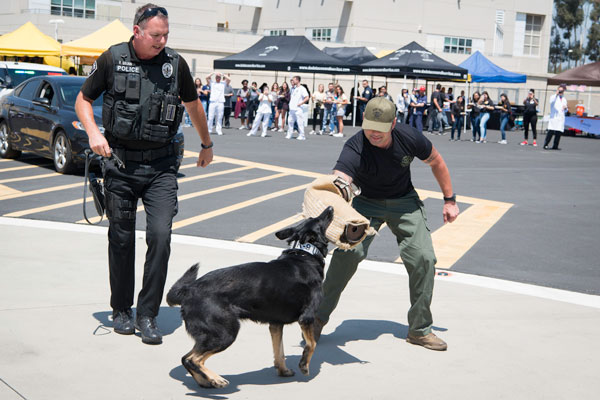 Arrowhead Regional Medical Center's (ARMC) Department of Emergency Medicine held its Annual Emergency Medical Services (EMS) and Tactical Medicine Expo on Wednesday, May 16, 2018. The event brought together countywide organizations that work with ARMC, including the San Bernardino County Fire Department, City of Colton and City of Rialto Fire and Police Departments, San Bernardino Medical Reserve Corps, San Bernardino County Sheriff's Department, and the Inland Valley SWAT Team, among others. The event was open to the public and attended by students from Colton High School, Grand Terrace High School, Rialto High School, and Yucaipa High School.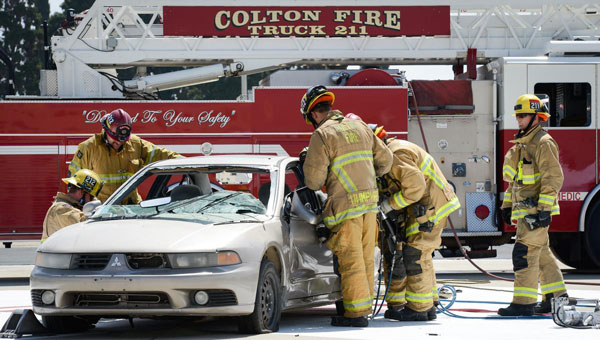 Located in the largest geographic county in the contiguous United States, ARMC is a Level II Trauma Center and one of the more advanced health care institutions in the country. County of San Bernardino Supervisor Curt Hagman joined ARMC leadership in making opening remarks at the start of the event, along with ARMC CEO William Gilbert among others. The various organizations showcasing their life-saving techniques and equipment along with interactive demonstrations, included the City of Colton Fire Department and the "jaws of life" procedure taking a car apart for the audience to see the steps of the emergency process. K-9 police officers demonstrated a K-9 apprehending a suspect, as well as a demonstration of a narcotics' K-9 identifying one of the many bag props containing narcotics.
As part of ARMC's Community Engagement Plan and San Bernardino County's "Cradle to Career" efforts, the high school students joining were from Colton High School's Health Education Academy of Learning (HEAL) program designed for students who have expressed an interest in a healthcare career; Grand Terrace High School's CARE Pathway students, a program that provides the skills and certification necessary to work in the healthcare profession as a Certified Medical Assistant; Yucaipa High School's Health and Biomedical Sciences Academy, a four-year instructional pathway that creates proficiency in foundational skills through classroom and workplace experiences, while preparing students for college and career; and Rialto High School's Career Pathways Medical Assistant program.
With more than two million people living in San Bernardino County, ARMC proudly serves and employs many community members. ARMC offers a variety of career opportunities in clinical, administrative, and other support roles. The facility regularly engages with area schools to educate students about careers in healthcare.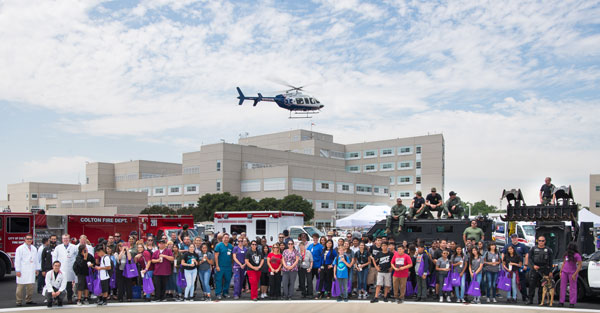 About Arrowhead Regional Medical Center
ARMC is a 456-bed university-affiliated teaching hospital licensed by the State of California Department of Public Health, operated by the County of San Bernardino, and governed by the Board of Supervisors. The hospital, located on a 70-acre campus in Colton, California, operates a regional burn center, level II trauma center, primary stroke center, a behavioral health center, five primary care centers including four family health centers, and provides more than 40 outpatient specialty care services. ARMC is helping to achieve the Countywide Vision by addressing the community's wellness and educational needs. For more information on the Countywide Vision, visit: www.sbcounty.gov/vision. For more information about ARMC visit www.arrowheadmedcenter.org. Follow ARMC on Twitter at @ArrowheadRMC for important announcements and updates, and on Facebook at www.facebook.com/arrowheadregional. ARMC is located at 400 N. Pepper Avenue in Colton, and can be reached at (909) 580-1000.