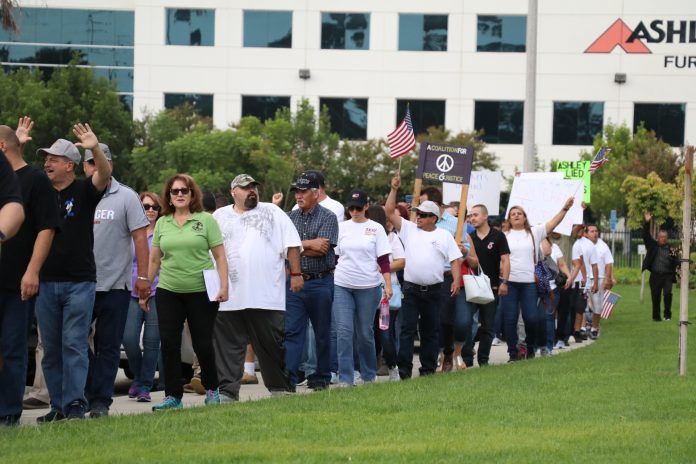 Today the U.S. Department of Labor announced they will provide employment services, training, and income support to displaced Ashley Furniture manufacturing employees.
"To be able to tell these folks that help is on the way is crucial," said Congressman Pete Aguilar (D-San Bernardino). "This is an important first step and I look forward to working with our leaders at every level to make sure San Bernardino County workers have the resources they need to get back on their feet."
On August 26, 840 employees of Ashley's manufacturing plant were told by company representatives that they would be out of jobs after October 25.  A statement released by the company explained that Colton's bedding and upholstery production will be absorbed by other manufacturing facilities in Mississippi, North Carolina, and Wisconsin.  
Earlier this month, the California Employment Development Department petitioned for federal help through the Trade Adjustment Act, which offers employment services through training, counseling, and other support for workers who are affected by foreign competition.
Congressman Pete Aguilar (D-San Bernardino) followed up by sending a letter to Department of Labor Secretary Thomas Perez expressing his support for the EDD's petition. Aguilar also explained that the petition filed on behalf of the workers alleges that a significant portion of production from Ashley's Colton plant is moving to Vietnam.
"Previous TAA certification certification for other laid-off Ashley workers in other parts of the country found that the company increased its imports of furniture and that contributed to the separation of workers," Aguilar wrote to Perez. "The evidence appears to point to a similar situation in the case of the Colton Ashley Furniture location — that these workers were adversely affected by foreign trade."
Ashley Furniture Spokesperson Jason Lockington did admit that some of Colton's plant operations would be shifted to Southeast Asia. However, he continues to affirm that the company's decision to layoff the workers was made to increase efficiency and capacity at other existing plants.
"While I do not have an exact number [of plants], I can assure you that the majority of the production will be moved to U.S. facilities," Lockington said.
Former Ashley employee Israel Naja, who helped organize a protest in front of the Ashley Furniture Homestore earlier this month, said the announcement has provided hope for the displaced workers.
"It won't solve all of our problems, but it will provide a benefit," he said. "I'm happy to see that there are still some politicians that listen to the people."
Colton Mayor Richard De La Rosa hailed Aguilar for his ability to uphold his promise of receiving federal aid for the displaced workers.
"They promised workers that they would look at every avenue and they did," De La Rosa said. "I'm glad to know the Congressman is providing these people support."
The plant is scheduled to shut down on October 25.