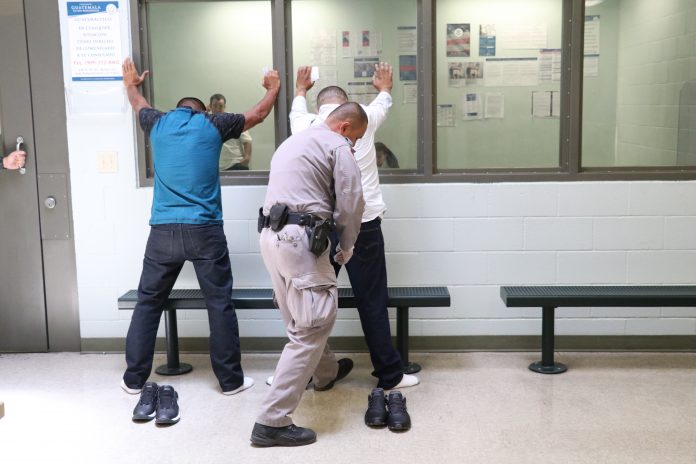 Imagine sitting in a detention center–awaiting your final fate. You have sought asylum from lurking dangers thousands of miles away in your home country.
Yet, the U.S. government has denied your plea. You are resigned. Weeks turn into days. The imminent deportation you await will most likely lead to a certain death.
"If I go back home, I could be dead," said 34-year-old Issaka Abubakari. "I don't have anywhere to go or stay."
Such are the daunting prospects some detainees face at the Adelanto Detention Facility–the U.S. Immigrations and Customs Enforcement facility that houses approximately 1,900 of the current 440,557 immigrants currently in detention nationwide, as highlighted by non-profit research centre Global Detention Project.
Many of the men and women in these centers are incarcerated for different reasons. Some are there because they are refugees; others have been labeled as threats to national security due to their ties to criminal activity and organizations.
As I stood in the center's reception center during a tour on May 18, I observed dozens of detainees who stood and sat inside holding rooms. Their faces drooped and glared back at me–some cocky and confident, others resigned and dejected.
This was only the beginning of what would be a two and a half-hour journey into California's largest immigration detention center, which in recent years has been the center of controversy and complexity among immigrant rights groups and U.S. Department of Homeland Security officials.
Reception and Medical Care
Adelanto's intake center has seven holding cells where incoming detainees are held as they await medical evaluation, level classification and clothing. Outgoing detainees are also held here–merely waiting to be transported to Arizona Removal Operations Coordination Center (AROCC) to catch a deportation flight back to their homelands.
Upon arrival, detainees sit down with staff to discuss their particular case and other essentials such as how to contact officers who work for the prison operator GEO Group Inc. For example, they ask questions or express concerns on how to access facility resources. The intake center is also the location where detainees meet with consular officials. ICE Deputy Office Field Director David Marin says detainees are grouped based on various factors–mainly to avoid tension and confrontation among inmates.
After they are cleared from intake, detainees are led through the facility's medical and dental center. They are screened for illnesses such as tuberculosis and given the needed dental and mental treatment, according to Marin. Detainees with contagious diseases remain isolated in a negative pressure room to prevent cross-contamination.
This time there were no detainees in the pressure room, but some were being held in single bed units awaiting treatment and others in direct observation rooms. Monitored by GEO staff, detainees in these rooms suffer from severe mental illnesses and are contemplating suicide. One young man sat inside a room with a bewildered expression on his face. The clipboard attached to the door noted he was a Honduran national.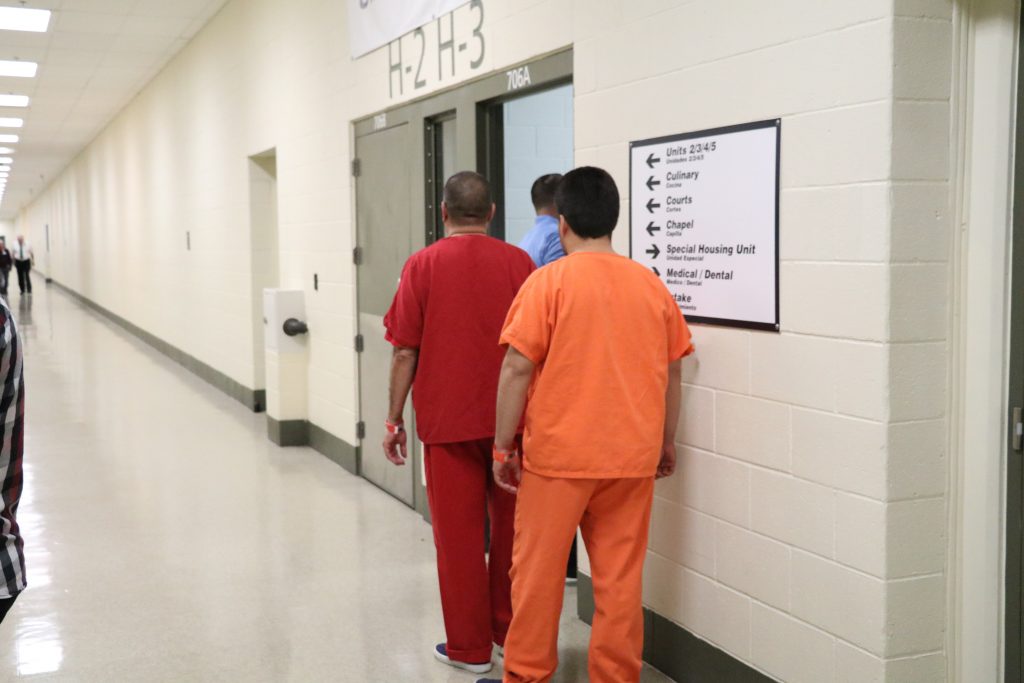 According to ICE spokesperson Virginia Kice, there are currently three full-time physicians and one part-time doctor assigned to the Adelanto Detention Facility. These onsite doctors see some 40 to 50 patients a day, for a total of approximately 200 patients a week.
Moreover, an onsite psychiatrist is at the facility three days a week for 13 hours a day–averaging out to 55 to 60 patients being seen a week. The facility's current medical care provider is Correct Care Solutions.
"In my viewpoint, we provide good healthcare," said the facility's doctor Carlos Deveza. "We have strict clinical guidelines in place."
Abubakari, mentioned at the outset, disagrees–explaining that he's put in several medical requests that have been ignored by GEO officials. "You have a medical request and it doesn't come in time," he said. "There's a lot of neglect."
Marin insisted that ICE has nothing to hide. "We have specific standards that we are required to meet. We go above and beyond other correctional institutions to provide detainees with the safest environment possible."
Variation in housing units and distribution of food
ICE officials confine the majority of its detainees in housing sections referred to as "pods"–containing about 80 detainees in a dozen rooms.
The West facility is comprised of three housing sections, while the East facility–the original building bought by GEO from the City of Adelanto in 2011–is much older and houses migrants in pods set-up with barracks. The latter facility also houses female detainees.
They are allowed to sign up for voluntary work programs that provides employment in the laundry room, cafeteria, library, and visitation area. Detainees make about $1 per day, according to officials. High-risk offenders (dressed in red) are only allowed to work within the unit–taking care of the maintenance.
Immigrants also have access to telephones, books, television, headsets for music, and board games. During weekends they are allowed to access to an X-BOX, according to officials.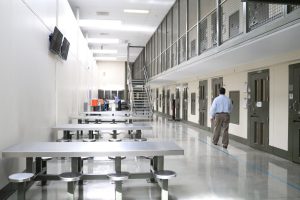 Adelanto's two isolation units serve several purposes. Administrative Segregation houses detainees who are in protective custody, are isolated from rival gangs, suffer from mental health issues, or who voluntarily seek isolation. In contrast, Disciplinary Segregation is imposed on detainees that fail to follow directions from GEO and ICE staff and for serious offenses such as fighting. According to Marin, the average stay for a detainee in Disciplinary Segregation is ten days. ICE officials allow for detainees to 'bunk up' with individuals they get along with. Each segregation unit holds up to 64 beds.
Exercise yards are available for immigrants to utilize for fitness, with access to a soccer field, basketball courts, and a track.
It was in Administrative Segregation that I was able to step into a room. The space inside was the standard for a jail cell–an estimated 6-by-9 feet. Space was cramped, with only a bunk bed, a toilet, a sink, and a small table. The two men who reside in the room were not present. Only their personal belongings, letters, books, as well as leftover trash (milk cartons and orange peels) remained behind.
I was inside the cell for about two minutes–basking in the same smell of the anti-septic odor that oozed throughout every section of the facility. It was enough to run chills down my back. I contemplated what it would be like to live in such a tight space for several weeks, months, or even years.
At lunchtime, I asked if I could sample one of the detainee lunch trays: a serving of white bread, tuna, carrots, lettuce, steamed broccoli, and potato salad. Food served on other days include oranges, coleslaw, onions, and beans.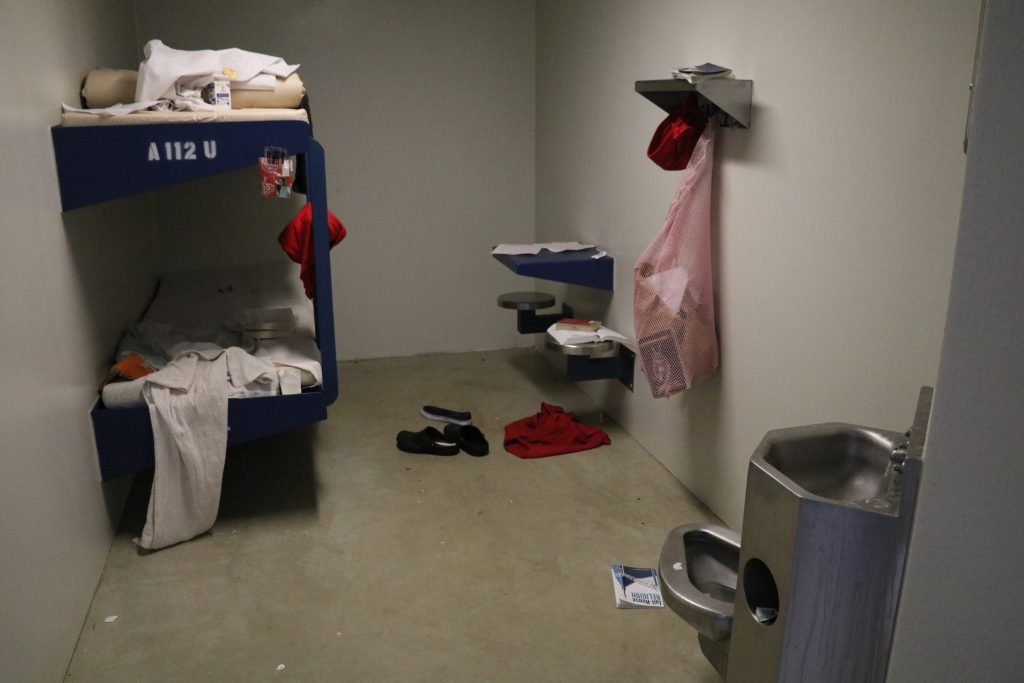 Marin and the two other ICE field directors that accompanied him each grabbed a tray and joined me in the East facility's break room. We all sat down and began to chomp down on the servings. I hesitated at first, not exactly sure on what I wanted to eat. Eventually I began to bite away–beginning with the vegetables.
The ICE agents finished their meals quickly–leaving me to ponder whether I should eat the tuna. I didn't want to throw the food in the trash. Instead, I grabbed the issued plastic spork and spread the tuna on the white bread–making it into a sandwich.
I struggled to chew and swallow the contents–specifically because it had little taste. At that point I wondered what the detainees thought of their food.
Detainees describe experiences inside Adelanto
Nazar Zakari, a 20-year-old asylum seeker also from Accra, Ghana, explained the meals were the least of his worries.
"The food is good," he said. "America is good."
Zakari, who left his homeland almost a year ago after almost being killed by Muslims because of his sexual orientation, was apprehended in San Ysidro. He's been in detention for about 10 months. He said he is currently undergoing court proceedings in hopes of receiving legal protections from the U.S.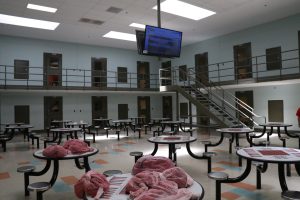 Despite being optimistic about his situation, Zakari believes he is viewed as an inmate by ICE officials. "This is prison, which makes things difficult," said Zakari. "They try to help us and do good, but they are keeping us here for a long time."
The process Zakari is undergoing is that of a Credible Fear Screening–to determine if he has a legitimate claim that he is indeed in danger of persecution or torture. He hopes that an immigration judge will grant him asylum.
"A man from Ghana was deported from here last week or two weeks ago," described Zakari. "He had previously sought asylum like me and was denied. We heard that he has already been killed."
His fellow countryman has not had the same luck. Abubakari applied for Humanitarian Parole but has been denied by ICE due to a review of his file record and/or personal interview, as stated in a letter from the agency from February.
Also from Accra, he fled his hometown in the Fall of 2014 after receiving death threats. He later explained during an interview that the so-called American Dream has demonstrated nothing but confinement and loneliness.
Abubakari said he signed his own deportation last year and has urged officials to speed up the process. He filed a Detainee Request Reform on April 25, asking about the status of his repatriation. An ICE officer responded by explaining that officials sent his 270-day custody determination to headquarters–awaiting a decision.
"These conditions are not easy," he said. "I've never been in prison before. I've been here a very long time. If I appeal, it will still be denied. So what's the use?"
It's been 17 months and counting for Abubakari, who still awaits his fate.