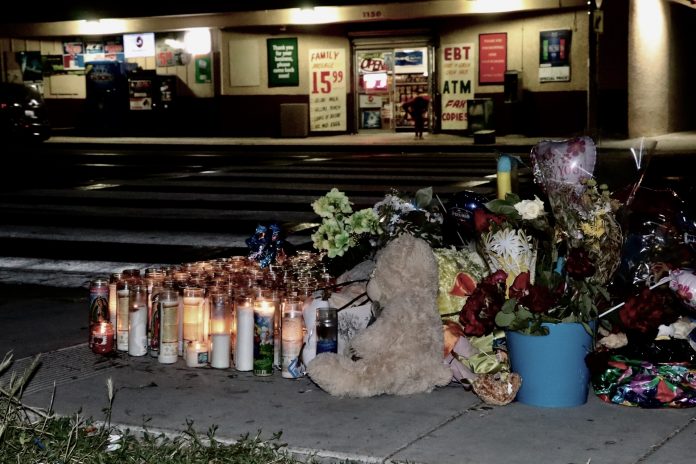 As I stood outside a few evenings ago on a balmy night on San Bernardino's westside, the scene played out as it usually does: local stores sell their wares, people come and go conducting business, and cars whiz by at breakneck speed.
At the busy crosswalk of Davidson and Baseline Streets, family members also lit candles and rearranged stuffed animals and flowers. It was here that one of their youngest family members was struck and killed by an alleged drunk driver on the night of April 27.
Three-year-old Michael Flores was in the crosswalk when he was hit by a vehicle driven by a Redlands woman who was identified by authorities as 34-year-old Crystal Marie Fuentes. Police at the scene said that Fuentes kept on driving and crashed her truck a few blocks away. Booking records show that she had just been released on another alcohol-related charge.
The scene was sadly reminiscent of incidents I've witnessed over the years in the city. On the same Baseline Street some five miles to the east, my father years ago had stopped at a crosswalk to let the pedestrian pass. To our horror, the driver to the right of us did not stop. The woman was fatally struck. Witnesses at last Thursday's scene reported a similar story. They said that cars had stopped for the family to cross the marked walkway–Michael was walking with with his father, mother and siblings.
At the very same crosswalk at Davidson in 1985, I was waiting in the car while my parents were inside the then Budget King supermarket. I suddenly heard screeching tires: A car almost hit a woman crossing in that same crosswalk. The little dog with her was not so lucky. I'll never forget seeing the tires of that car pass over that helpless animal.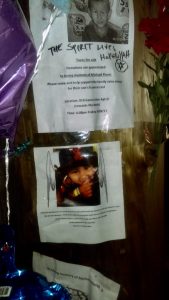 This has been a problem for years. At countless intersections of the city, signal lights needed to be put up years ago. That Davidson crosswalk, for as long as I can remember, has been very dangerous. I hope the city will take this in account. Mayor Davis and city council members: do you take notice?
Unfortunately, no amount of city preparation or safety features could have stopped the drunk driver. Signal lights or not, drivers need to slow down. Distraction, such as texting or talking on the phone is also an issue. All it takes is seconds to glance away from the road and hit a person in the street.
That evening as I stood outside with Michael's family, they wondered out loud in Spanish how many more people would be hit, or worse killed. I too, wondered to myself how many of those whizzing and passing vehicles contained drivers who were distracted, or worse under the influence.
Sure the city could do more. I'd challenge seemingly cash-strapped San Bernardino to put up a signal in that Davidson crosswalk within 60 days. It can be done. Anything less is another excuse. On the other hand, we drivers cannot just blame others. We need to slow down, be aware, and put our phones away, plain and simple. And God help you if you are out there drinking and driving.
I know it sounds trite. We've heard it all before. In one ear and out the other, right? Just try explaining that to the family of Michael Flores.